by John Walker on Dec.18, 2012, under Rants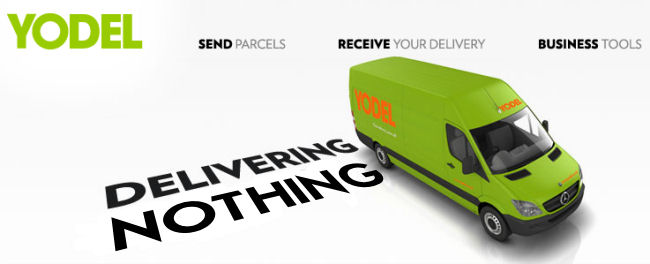 Warning: whinging.
For the longest time I've assumed that Citylink are the worst delivery company in Britain. But Yodel are looking like real contenders for the title. While almost all delivery companies are obtuse, unhelpful, and make resolving issues as difficult as possible, none compare to the heavy iron walls that surround Yodel.
I have a delivery due, it was meant to arrive some time last week. On Friday I dared to leave the house for an hour, and of course they attempted to deliver then – clearly not their fault. I received a card through the door (thus immediately giving them an advantage over Citylink, you could argue), which had been filled in to tell me it was the "1st of 3 attempts". I should turn over the card for more details – this instruction had been hand-ticked twice.
The back of the card was completely unmarked. No offer to reattempt to deliver was ticked, nor was the suggestion that I'd need to collect it from their delivery office. So, er, great.
There was also an option to visit their website to reschedule delivery. I did that, and it offered me Monday – picked it, and waited. Waited in all day yesterday, not leaving the house once so I wouldn't miss the package, and nothing. No attempt to deliver. I checked their website, and despite the confirmation email I have for the redelivery, there was no mention of it listed, no attempt to move it from their Bristol depot (so an hour away), and just the option to pick another date (presumably equally fruitlessly).
So at this point, I want to speak to someone at Yodel to ensure the redelivery is confirmed. This, it appears, is impossible. And this is why I'm ranting this, rather than just moaning my parcel didn't arrive. This is the core of what makes Yodel such a dreadful option. There is no way to speak to them.
Their website doesn't appear to have phone numbers listed anywhere. The number I have on the card only reaches a machine, and only has two options (rearrange delivery, or collect from the depot), with no ability to speak to an operator. If you don't press an option, amazingly the recorded voice very tersely says "If you don't choose an option we can't help you" and then hangs up!
Searching around the internet for numbers for the company, a few suggest they offer customer services. They don't – they all end up at the same machine. And amazingly, even if I did want to try to rearrange delivery with this robot, it's not possible, since it requires a parcel number, which hasn't been filled in on my card!
Okay, so I need to follow the online guidance for what to do if my parcel hasn't arrived on its delivery day, right? Wrong. Because incredibly, nowhere on Yodel's site is the idea that this could happen even considered. They so deeply cannot contemplate the idea that they might not achieve delivering a package that they offer no support for when this might not happen.
So my reason for suggesting you shouldn't use Yodel isn't because my parcel didn't arrive – wah wah, John missed a package. It's because they have gone out of their way to make it impossible to do anything about it. Rescheduling delivery doesn't do anything, despite their sending an email to confirm the date. Phoning them is not only futile because it requires information you haven't been given, but also because it's impossible to actually contact them. And there is no concept that they may fail to honour a delivery, and thus no means to do anything about it. And with all that being the case, they're clearly not a fit company for the purpose. So I strongly suggest adding them to your Citylink dartboard, and not buying products from companies that use them to deliver.
:
yodel