by John Walker on Jan.06, 2010, under The Rest
So in summary, they got absolutely every prediction incorrect, but it did eventually snow.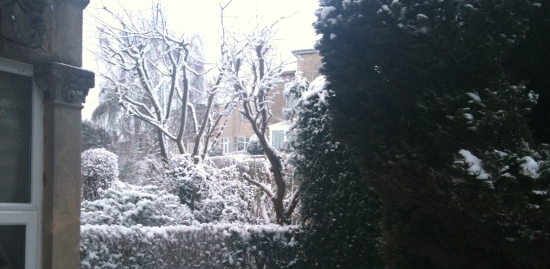 Yesterday morning the prediction was that Bath would receive an epic dumping of snow. By mid-afternoon this was stepped up to the South West being put on full alert for the most dangerous snow in living memory, with the highest ranking Met Office warning issued (a warning, we were told, they issued before last year's floods in the Midlands, that rendered thousands homeless). It was going to disrupt power. It was going to close every road. Then about three hours later we had the cough-cough-oh retractions of this, but still with enough grim warnings of snow that we should still worry, and it would all kick off around 8pm. (This was originally 3pm, then 6pm.) At around 8pm we were told the slightly minimized apocalypse would now be occurring at midnight. But it was going to be at least 10cm. At least.
Come 2am we had nothing. So in contrast with the forecast that morning, the precise opposite of the predictions for following eighteen hours had occurred. Poor London had even more insane forecasting, with at least four complete switcheroos over whether they'd be receiving either no snow at all, or a lethal amount. Hilariously the weatherman this morning attempted to excuse his proclamations of doom by describing the somewhat anticlimactic results as "severe weather by degree." But no apology.
In the end Bath – or at least my bit of it – has had about 5cm. Which is, again, about as little as you can get and have it settle. It looks wonderful. Outside my window is extremely pretty. Once some RPS posting is complete, it will be Project Snow for as long as my fingers stay attached to my hands. Because I live in a country – and especially a region of that country – that receives snow so incredibly rarely, it's enough to disrupt everything. All buses in the area are cancelled, the trains have mostly come to a halt, every single school and both universities have shut. And that's why I wanted this. This is what snow offers us. We aren't equipped to cope with it, and there's no reason we should be – it's the second time in 19 years it's been a problem. And it's going to be a problem for approximately one day. (Although, if the forecast is correct – HAHA – tonight's going to be -7C, which could lead to the entire place freezing into a snow-flavoured lollipop.)
I know a few will say, "See, your complaints were invalid. It did snow." My complaints were valid. The weather we saw was so far removed from the weather predicted, and even the Met Office were telling me about the heavy snow that had been falling on my head for two hours, long before it happened. They can't even report the weather that's currently happening, let alone usefully predict the future. (Another example. Yesterday this snow was going to be rained away. Today it's going to be frozen in place.)
So here's my plan: Each weather forecast must begin with a comparison of two maps. The weather they predicted for 24 hours ago. And then the weather that happened 24 hours ago. This is completely fair. Then, should they be so very perceptive and successful, they'll look brilliant. But more likely when there's little comparison between the two, it will inject a little humility into their performance, while at the same time providing perspective for the viewer.
:Rants, weather