Tag: late late show with craig ferguson
by John Walker on Dec.30, 2014, under Television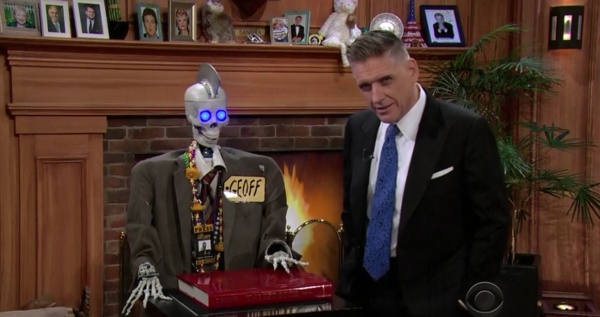 I think the most depressing thing on American television – and more so than the predictably and necessarily awful horror of stations like Fox News – are late night talk shows. While I'm too young to have anything to say about Carson, the last two stultifying decades of Leno and Letterman at 11.35pm were a miserable, stagnant waste. Leno was widely hated by his contemporaries from the start (getting Carson's slot when everyone had assumed it was going to Letterman) and even more so by the end (screwing over Conan O'Brien in a way that deserves its own movie), though he was immensely popular with an audience of America's 370 year olds. Letterman, for reasons I have never truly understood (but suspect may mostly be a inversion of the disgust focused on Leno), has always been heralded as the master of his craft, and championed by so many American comics. Both were equally vapid, cowardly, and tedious. Neither moved the format a millimetre further forward in their twenty years hosting a nightly programme.
Both shows followed precisely the same format. An opening monologue of over-written-to-death topical gags from a writers room of comics who would never utter such banality in their own acts, delivered as only jokes written by someone else for you can be. Then some 'wacky' sketches or bits, accompanied by interminable gurning to camera. Then two or three interviews with celebrity guests, each rehearsed, agreed upon, signed off on by agents and managers, and then delivered in staccato question: monologue; question: monologue; request for plug: plug. No surprises, no movement, no inspiration.
Accompanying this would be a house band led by a sycophantic yes-man, whose role was to laugh into a microphone at the host's pre-scripted ad-libs, while punchlines were accompanied by brass band stings, presumably to help audiences locate them. Said studio audience's role was to excessively clap and whoop (because laughter is a sound created by pleasant surprise at humour, while whooping and clapping can be queued) to fill perhaps a third of any show's running time.
I write all this in the past tense rather inaccurately. While Leno may have mercifully finally gone this year, Letterman is dragging his kooky looks to camera, unfathomably poorly written Top 10 Lists, and familiarity with female staff, out until May 2015. And although Jimmy Fallon may be a far more likeable person than Leno (but then again, so would a slab of concrete), and although the writing is enormously better, it's still the same stale format being dragged further on. Meanwhile Conan's TBS show sinks ever deeper into its own smug satisfaction, and despite its actually getting better ratings than Letterman, no one has ever met anyone who watches ABC's Jimmy Kimmel Live Exclamation Mark.
The real magic happened at 12.35.
7 Comments
:late late show with craig ferguson, late night talk shows, Television
more...