by John Walker on Oct.13, 2014, under The Rest
I need to put this in one place, to stop myself from having to tweet it eighteen trillion times.
GG got very cross yesterday and overnight with my having written about how much abuse and harassment I received. I mentioned that I'd received thousands of unpleasant tweets. I came to this figure based on an average bad evening of it would see 500+ tweets coming in, and this happened multiple times. Within them were a number of extremely unpleasant and distressing tweets, with demands that I kill myself and so forth. This was one of them (which GG has been desperately trying to declare can't be anything to do with them because of X, Y and Z, then someone else pointing out he was, and then tweets get deleted, and so on).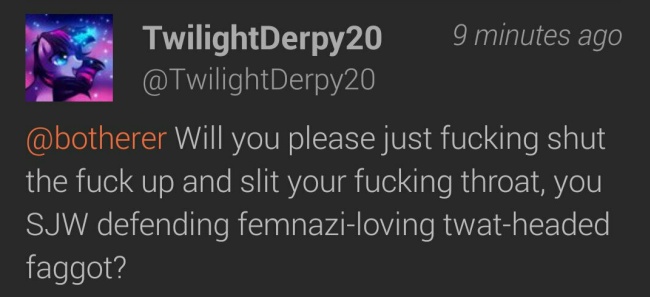 Oddly enough, I didn't keep the rest. Because I'm not crazy. I screenshotted that one on my phone, because it was quite so scary, and when the tweeter promptly deleted it after lots called him out, I was able to repost it. I took screens of a bunch of others, but deleted them since, because I didn't really like having them on my phone. And, heck, why would I need them?
GG participants are FURIOUS with me, and have attempted to disprove that I've received any abuse at all, via various searches. However, they used Topsy, which only stores a month's worth, meaning it went back only as far as 12th Sept, after the bulk of the abuse I received had happened. Their search also only included that which had the #gamergate tag in it. This also doesn't work, as the vast majority of the abuse I received came without it. People would send me a tweet saying whatever, and if I replied, they'd then frantically add in the tag to get back-up. This would then bring dozens more in who were following the tag, also insulting me without the tag, and then themselves only adding it in if I replied pointing out they were incorrect, etc.
The reality is, I spent two weeks receiving extraordinary amounts of unpleasant comments, most of them mild, but unrelenting. It was miserable, my wife saw it all happening and it made her miserable, my friends saw it, people argued with these people at the time – it all happened. It's important that I maintain this, in the face of an attempt to discredit it.
:
gamergate