by John Walker on Sep.28, 2014, under The Rest
Today the Sunday Mirror has a strong scoop. A male freelance journalist, posing as a young female Tory activist, managed to hook a Tory MP into sending explicit photographs of himself, and trying to arrange to meet 'her'. The journalist then gave this story to the Mirror, who contacted the MP – he denied ever having heard of 'Sophie'. So they contacted Downing Street with the evidence, who promptly released a statement saying the MP was stepping down immediately.
But ho boy, if a story involving technology isn't a tricky pickle for the UK press to cope with. The conversation between Brooks Newark and 'Sophie' began via Twitter, moved on to Facebook, and then eventually to texts. However, the photos they exchanged were sent via WhatsApp. Here's how that's been understood by today's newspapers, trying to hop on the scoop.
Here's the Mirror's front page headline: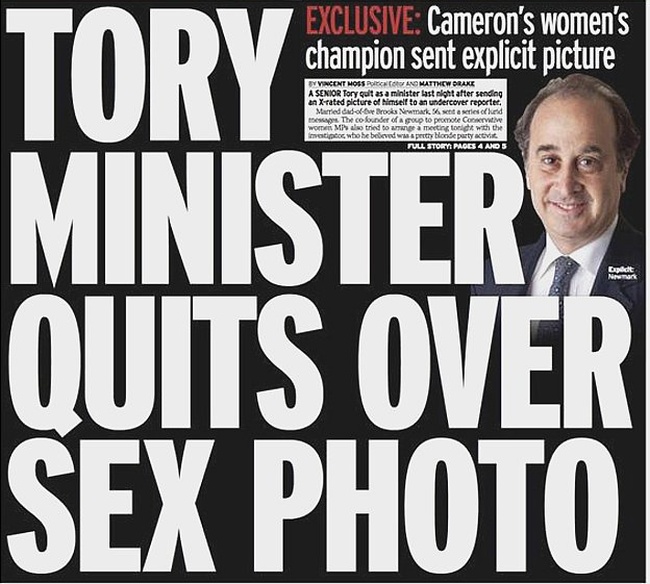 The Mail takes a stab at it, but with their usual complete lack of understanding how absolutely anything works, resort for "website". (They often do this for Twitter too. "It was posted on the Twitter website." It's adorable.) WhatsApp of course isn't a website. It's an app.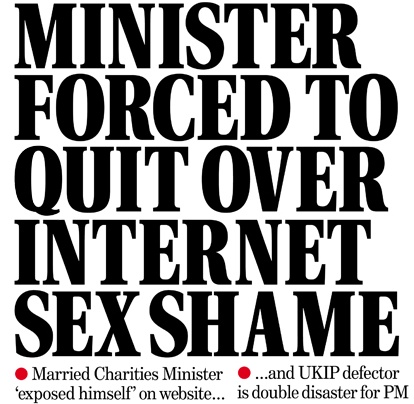 They then go on to explain how he "swapped explicit images during a private message conversation on a social networking site." Which is, well, gibberish.

The Sunday Times completely misunderstands the whole story, and declares the matter about "lewd tweets". Which would have been a somewhat more public scandal!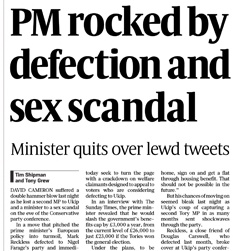 The Telegraph's front page evades the matter, but their story plumps for "social networking website", which again, is very cute. They also make a bold claim that the story came from their "sources", rather than "we copied it out of the Mirror".

The Sun gets the MP's number of children wrong, and like most other papers hastily copying the story out of the Mirror, miss that the reporter was male. But, to give them credit, they do manage to get the WhatsApp bit right.

The Express, meanwhile, despite leading with the story on their front page, gives the matter only a cursory glance on their website, burying it below much scrolling, and then with no details at all. It'll be interesting to see why that might be in the next Private Eye.