by John Walker on Jun.19, 2014, under Rum Doings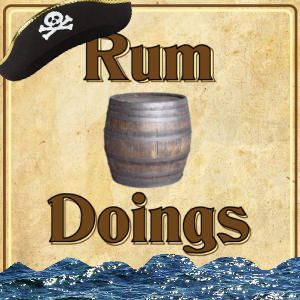 In our 165th ever Rum Doings, we're back on the ocean waves! The topic is: why can't kings just reign until they die, for goodness sake?
After three days at sea, Nick and John find themselves trapped on a floating town with the most awful population on Earth. We begin with a look through the HMS Sinksalot's onboard programme, the Pitter Patter.
There's discussion of the world's most passive-aggressive magician, when John interviewed Douglas Adams, and incredibly, Nick's phone rings in the middle of the sea. More dolphin chatter, and just a generally happy fun time!
You are of course required to leave a review on iTunes. Thank you to everyone who has – there are some extremely generous comments up there.
Make sure to follow us on Twitter @rumdoings. If you want to email us, you can do that here. If you want to be a "fan" of ours on Facebook, which apparently people still do, you can do that here.
To get this episode directly, right click and save here. To subscribe to Rum Doings click here, or you can find it in iTunes here.
Or you can listen to it right here:
[audio: http://rumdoings.jellycast.com/files/audio/165_rumdoings.mp3]
:podcast, rum doings, rumdoings