by John Walker on Apr.18, 2014, under Rum Doings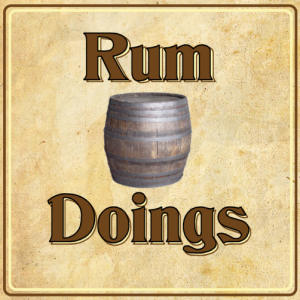 In our 159th ever Rum Doings, our topic is, what is it with those flamingos?
It's Rum Doings in person! We unite in the echoey halls of Posi Castle We begin with our listener's all-time highlights of Rum Doings. Then we begin our LCHF picnic, of home-baked not-bread and chocolate brownies. Mmmmmmmm. With our mouths full, we explore the ways of Nigel Ferage, which inevitably leads us to discussing abortion.
And then we move on to a very special letter. Typed on a manual typewriter, what begins as a sympathy message about the disappearance of Dexter, quickly becomes… very strange. Whatever you do, make sure you listen to the final excerpt.
You are of course required to leave a review on iTunes. Thank you to everyone who has – there are some extremely generous comments up there.
Make sure to follow us on Twitter @rumdoings. If you want to email us, you can do that here. If you want to be a "fan" of ours on Facebook, which apparently people still do, you can do that here.
To get this episode directly, right click and save here. To subscribe to Rum Doings click here, or you can find it in iTunes here.
Or you can listen to it right here:
[audio: http://rumdoings.jellycast.com/files/audio/159_rumdoings.mp3]
:podcast, rum doings, rumdoings