by John Walker on Jan.24, 2014, under Rum Doings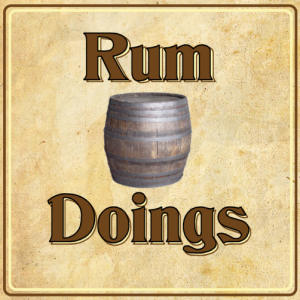 In our 151st ever Rum Doings, our topic is: is there a God?
We discuss the news of the day, from two days ago, then Nick says something ill-informed about Tourettes. John the talks about the lying ways of grieving parents. We are the most sensitive of all podcasts. Then moaning about how old we are takes place.
Lucy's spaying comes under scrutiny, and then we talk about the enormous silliness of King and their attempts to trademark the English language. (We make a mistake here (and by "we" we mean "John") as King's trademarks for words like "SWEET!" are for their particular bubble writing logos.) And then we stop.
You are of course required to leave a review on iTunes. Thank you to everyone who has – there are some extremely generous comments up there.
Make sure to follow us on Twitter @rumdoings. If you want to email us, you can do that here. If you want to be a "fan" of ours on Facebook, which apparently people still do, you can do that here.
To get this episode directly, right click and save here. To subscribe to Rum Doings click here, or you can find it in iTunes here.
Or you can listen to it right here:
[audio: http://rumdoings.jellycast.com/files/audio/151_rumdoings.mp3]
:podcast, rum doings, rumdoings