by John Walker on Mar.22, 2013, under Rum Doings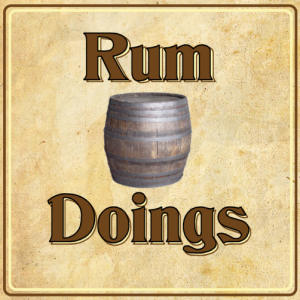 Heaven high, listeners. It's episode 129 of Rum Doings, in which we don't discuss whatever happened to the dinosaurs. Instead we talk about how John is the most hated man in the world, Nick's experiences at a comedy gig, and John is finally brought back down to Earth from his delusional celebrity.
We then play "Guess The Newspaper From The Headline", the game that's sweeping the nation, Nick explains why the SNP won't win, and then there are more lessons in healthy eating from our nutritionist guru. Learn how Nick's daughter turned into a guinea pig, the murderous ways of Ricarda Bigjoan, and some slightly more introspective discussion of the nature of bullying of trans* people. And bad laughers.
We'd really love it if you left a review on iTunes. Yes, iTunes is hideous, but reviews on there are what get podcasts more attention. After 100 free episodes, we'd love you to return the favour by writing a quick review.
Make sure to follow us on Twitter @rumdoings. If you want to email us, you can do that here. If you want to be a "fan" of ours on Facebook, which apparently people still do, you can do that here.
To get this episode directly, right click and save here. To subscribe to Rum Doings click here, or you can find it in iTunes here.
Or you can listen to it right here:
[audio: http://rumdoings.jellycast.com/files/audio/130_rumdoings.mp3]
:podcast, rumdoings