by John Walker on Oct.18, 2012, under Rum Doings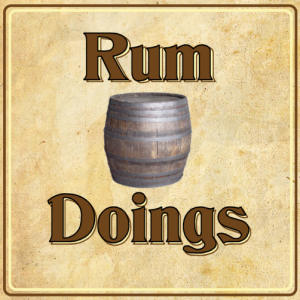 It's Rum Doings Episode 120! They didn't say it couldn't be done, because they didn't care. To celebrate this monumental milestone, we don't shut up for ages. In a bumper-length episode we talk our usual rubbish for 85 non-stop minutes.
Swigging on Japanese rum, with accompanying lame racism, we turn to the esteemed journal, The Practising Midwife. Here we learn how witchcraft is used by midwifes to save babies. We figure out the mistake all previous prime ministers have made when firing their shamed ministers, and then naturally move on to comics. That takes us to why we didn't enjoy Lord Of The Rings, and eventually the feminism of Arnie and Stallone. Which then means we insist you watch The Villain.
At the start of the second half we ponder Timmy Mallett, and find ourselves discussing Saturday morning television. Including John's appearance thereon. Then some magic. And then some reminiscing about when we didn't hate DVDs. As we exceed our second time limit, we find our way to the old familiar of radio comedy, and attempts to sell off Rock, Paper, Shotgun.
We'd really love it if you left a review on iTunes. Yes, iTunes is hideous, but reviews on there are what get podcasts more attention. After 100 free episodes, we'd love you to return the favour by writing a quick review.
Make sure to follow us on Twitter @rumdoings. If you want to email us, you can do that here. If you want to be a "fan" of ours on Facebook, which apparently people still do, you can do that here.
To get this episode directly, right click and save here. To subscribe to Rum Doings click here, or you can find it in iTunes here.
Or you can listen to it right here:
[audio: http://rumdoings.jellycast.com/files/audio/120_rumdoings.mp3]
:podcast, rum doings