by John Walker on Oct.10, 2012, under Rum Doings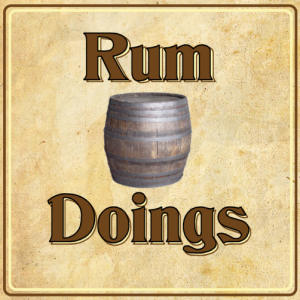 Rum Doings in the flesh! At last, at long long last, we're in the same room, for episode 119. Not discussing Skype, we celebrate our corporeal companionship by drinking some actual, proper rum. It's like the good old days.
What the hell is John's problem with booth babes? Why does John deserve all the thanks? And then Nick decides to once more wander into the topic of trans matters.
Of course we stumble briefly into the story about Jimmy Saville, but then quickly move on to John's holiday to Nazi Austria. This takes us to a comparison of the London and Vienna natural history museums, and naturally onto the most efficient way to buy a Starbucks. Things take a slightly odder tone, and then everything comes to an abrupt end when Nick refuses to carry on with Victoria in the room. And thank goodness, after what Nick said.
We'd really love it if you left a review on iTunes. Yes, iTunes is hideous, but reviews on there are what get podcasts more attention. After 100 free episodes, we'd love you to return the favour by writing a quick review.
Make sure to follow us on Twitter @rumdoings. If you want to email us, you can do that here. If you want to be a "fan" of ours on Facebook, which apparently people still do, you can do that here.
To get this episode directly, right click and save here. To subscribe to Rum Doings click here, or you can find it in iTunes here.
Or you can listen to it right here:
[audio: http://rumdoings.jellycast.com/files/audio/119_rumdoings.mp3]
:podcast, rum doings