by John Walker on Apr.13, 2012, under Rum Doings, The Rest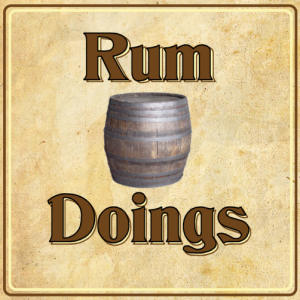 In a somnambulistic, rather long one hundred and second episode of Rum Doings, we don't discuss whether it's time to stop not discussing things. Nick and John still find the effort the argue despite the late hour. Beginning with Galloway, things naturally quickly switch to Just A Minute and Indian politics. And then back to British politics, and the current trend for pretending to like Islam.
We enjoy some splendid lemony booze from the lovely Ed Stern, argue over what age people become humans, ponder the last time we listened to a CD, tape cassette or VHS tape. We are old. John discussed the Mountain Goats/Anonymous 4 gig he'd recently seen, we question the possibility of monitoring everyone's emails, and then things get a little heated as we consider the strip club.
Nick recalls when John was on the receiving end of some sexual attention, discuss Enid Blyton again, and Nick tells us about the evening his stomach went on holiday. Then we get uncharacteristically serious and talk about anorexia and bulimia. Then things return to normal as we talk about the uselessness of pandas.
If you are suffering from an eating disorder, or know someone who is and want information or help, please visit here, or here.
Please leave a review on iTunes. We hate iTunes as much as any other sentient individual, but reviews on there are what get podcasts promoted, and we'd love some promotion. After 100 free episodes, we'd love you to pay us back by writing a quick review.
Make sure to follow us on Twitter @rumdoings. If you want to email us, you can do that here. If you want to be a "fan" of ours on Facebook, which apparently people still do, you can do that here.
To get this episode directly, right click and save here. To subscribe to Rum Doings click here, or you can find it in iTunes here.
Or you can listen to it right here!
[audio: http://rumdoings.jellycast.com/files/audio/102_rumdoings.mp3]
:podcast, rum doings