by John Walker on Feb.09, 2012, under Rum Doings, The Rest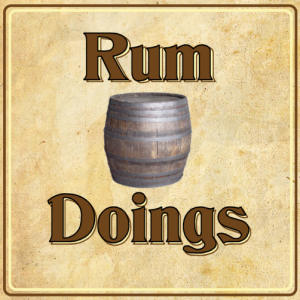 In episode 99A of Rum Doings – the podcast for the new generation – we don't discuss whether it's about time we abandoned the TV license and reintroduced the dog license. And then we took to Twitter to find out what it was we were supposed to be talking about.
Which we then ignore for ages and talk about the importance of rum for preventing heart disease, how you only exist if you podcast, and then finally turn to a tweet for how copyright will be interpreted by the next generation.
Is it more humane to keep a robot pet? Or how about a robot wife? Why aren't there boobies on children's TV? And why can't Sherlock Holmes investigate the missing grammar?
We consider the difficulty curve of petrol stations, the most bestest academic discipline, and then someone flicks the vegetarian-rant switch on Nick. Can a Morman be president of America? And are gays icky?
We really do ask you to write a review on iTunes. It makes a massive difference, and helps other people to pay attention to the podcast. Thank you to everyone who has – we've some lovely reviews. The more that appear, the more likely iTunes is to take us more seriously. And keep on tweeting and so forth. Please – it's the only thing we ask of you. And don't forget to give us a million pounds.
Make sure to follow us on Twitter @rumdoings. If you want to email us, you can do that here. If you want to be a "fan" of ours on Facebook, which apparently people still do, you can do that here.
To get this episode directly, right click and save here. To subscribe to Rum Doings click here, or you can find it in iTunes here.
Or you can listen to it right here!
[audio: http://rumdoings.jellycast.com/files/audio/rumdoings_e99a.mp3]
:podcast, rum doings