by John Walker on Jan.20, 2012, under Rum Doings, The Rest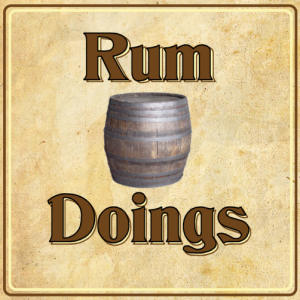 In a pre-recorded episode 97 of Rum Doings, we don't discuss this week's SOPA activities because we recorded this weeks ago. But it's the final part of our Judge Coxcombe trilogy, where we take questions from the audience. We begin with some real life, and then quickly get into cuddly character as we question Nick's absence. We celebrate making money by letting things be free, and then impressively we DO talk about SOPA! We are prescient.
Then we turn to the Twitters to solve your woes. The choice between trifle and banana crunch! Whether Mark Kermode is a big twit (he is)! Dealing with txtspk! The future of newspapers! These exclamation marks feel inappropriate!
We ponder Kunstler, whether it's okay to associate with people who like George Galloway, how marshmallows predict your future, and the hypothetical kitchen of Nicholas Mailer. And who will Baby Judith grow up to be?
We really do ask you to write a review on iTunes. It makes a massive difference, and helps other people to pay attention to the podcast. Thank you to everyone who has – we've some lovely reviews. The more that appear, the more likely iTunes is to take us more seriously. And keep on tweeting and so forth. Please – it's the only thing we ask of you. And don't forget to give us a million pounds.
Make sure to follow us on Twitter @rumdoings. If you want to email us, you can do that here. If you want to be a "fan" of ours on Facebook, which apparently people still do, you can do that here.
To get this episode directly, right click and save here. To subscribe to Rum Doings click here, or you can find it in iTunes here.
Or you can listen to it right here!
[audio: http://rumdoings.jellycast.com/files/audio/rumdoings_e97.mp3]
:podcast, rum doings