by John Walker on Jan.06, 2012, under Rum Doings, The Rest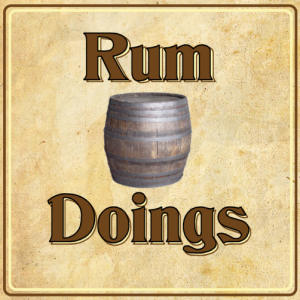 In episode 95 of Rum Doings, we're re-joined by regular guest Judge Coxcombe. Who receives a rich welcome.
There are Latin grammar lessons, book recommendations for Nick, and words for winkies. John argues against word gender, Martin talks Dick, and the loveliness of quantum mechanics. There are more book reviews, the contentious early versions of the Gospel of Mark, and how John De Lancie wrote the Bible. And are Nick and John… the same person?
We really do ask you to write a review on iTunes. It makes a massive difference, and helps other people to pay attention to the podcast. Thank you to everyone who has – we've some lovely reviews. The more that appear, the more likely iTunes is to take us more seriously. And keep on tweeting and so forth. Please – it's the only thing we ask of you. And don't forget to give us a million pounds.
Make sure to follow us on Twitter @rumdoings. If you want to email us, you can do that here. If you want to be a "fan" of ours on Facebook, which apparently people still do, you can do that here.
To get this episode directly, right click and save here. To subscribe to Rum Doings click here, or you can find it in iTunes here.
Or you can listen to it right here!
[audio: http://rumdoings.jellycast.com/files/audio/rumdoings_e95.mp3]
:podcast, rum doings