by John Walker on Dec.22, 2011, under Rum Doings, The Rest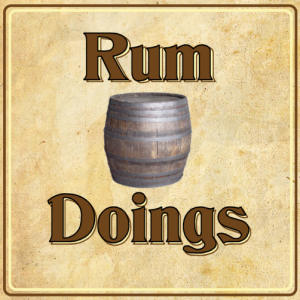 After losing our first start to episode 93, we attempt to begin all over again by trying to get the cardboard box burier out of jail. John explains how difficult it is to not buy a diamond ring, Australian rum that Nick pretends is nice, and there's the best bottle ugg-gugg-gugging OF ALL TIME.
Nick prepares himself for Chrimbles, and then we get onto the ancient news of the idiotic reaction to Jeremy Clarkson's comments on The One Show. And then we're suddenly invaded by the potty-mouth of Nick's wife, which seems to break Nick's brain. She is the Irene Adler to Nick's Holmes.
We explain why Rum Doings can never end, how John gives up on EVERYTHING, including television because of his annoying wife. And we spend some time pulling apart David Cameron's ridiculous speech, on why the King James Bible is a terrible thing, and why Christianity does not take well to being institutionalised.
Learn why Judith is not clever for doing a wee-wee in her potty, the special toilet swap day, and then things get perhaps a little unpleasant as we discuss labia, and then John says a very dirty word.
As ever, please consider writing a review on iTunes. It's a really good way of raising our profile. Thank you to everyone who has – we've some lovely reviews. The more that appear, the more likely iTunes is to take us more seriously. And keep on tweeting and so forth. Please – it's the only thing we ask of you. Oh, and commission us for a radio show.
Make sure to follow us on Twitter @rumdoings. If you want to email us, you can do that here. If you want to be a "fan" of ours on Facebook, which apparently people still do, you can do that here.
To get this episode directly, right click and save here. To subscribe to Rum Doings click here, or you can find it in iTunes here.
Or you can listen to it right here!
[audio: http://rumdoings.jellycast.com/files/audio/rumdoings_e93.mp3]
:podcast, rum doings