by John Walker on Oct.28, 2011, under Rum Doings, The Rest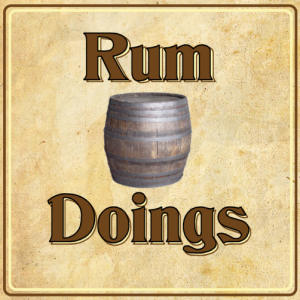 Episode 88 of Rum Doings sees us wake up after a week's sleep on Nick's studio sofa. Emerging from this slumber we talk about how awful Terra Nova is, then remember that our topic isn't: Is the National Lottery just a tax on the poor?
John then insults the religion of peace, and finally gets around to explaining why he's excited about nothing. New beds, Nick's daughter's ghastly guttural dialect, and the joys of intra-race racism, all cross our lips. And what does "pique" mean? Nick's determined to learn more about Minecraft, and then we remember the magic that was Rubik's Magic.
As ever, please consider writing a review on iTunes. It's a really good way of raising our profile. Thank you to everyone who has – we've some lovely reviews. The more that appear, the more likely iTunes is to take us more seriously. And keep on tweeting and so forth. Please – it's the only thing we ask of you.
Make sure to follow us on Twitter @rumdoings. If you want to email us, you can do that here. If you want to be a "fan" of ours on Facebook, which apparently people still do, you can do that here.
To get this episode directly, right click and save here. To subscribe to Rum Doings click here, or you can find it in iTunes here.
Or you can listen to it right here!
[audio: http://rumdoings.jellycast.com/files/audio/rumdoings_e88.mp3]
:podcast, rum doings