by John Walker on Sep.22, 2011, under Rum Doings, The Rest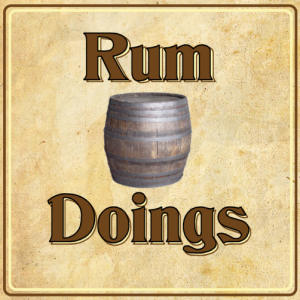 In episode 86 we drink rum that has been kissed by a butterfly, and practise our live cabaret show. There's discussion of John's cupboards, and the youth of today.
Then there's the somewhat awkward bringing up of John's wedding list. Which we then plug. Because we have no shame. Not even enough shame to not link it from here, nor to omit saying that the number is 312865. If someone wanted to donate toward the TV. Maybe. Ahem.
How to be friends with people of different intelligences? And how brilliant John is in the eyes of a five year old. And whether Nick should have another child. And then the scandalous revelations about how Nick would mistreat his younger brothers. How long will John live?
And that's it until after John's honeymoon. Unless he does record one out there. Which he probably won't.
Please consider writing a review on iTunes. It's a really good way of raising our profile. And keep on tweeting and so forth.
Make sure to follow us on Twitter @rumdoings. If you want to email us, you can do that here. If you want to be a "fan" of ours on Facebook, which apparently people still do, you can do that here.
To get this episode directly, right click and save here. To subscribe to Rum Doings click here, or you can find it in iTunes here.
Or you can listen to it right here!
[audio: http://rumdoings.jellycast.com/files/audio/rumdoings_e86.mp3]
:podcast, rum doings