by John Walker on Aug.17, 2011, under Rum Doings, The Rest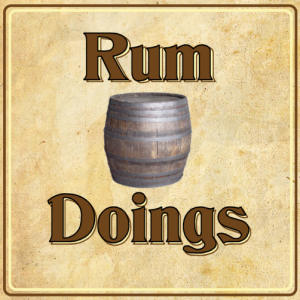 In episode 82, recorded long, long ago, in the distant past, before what the world has come to know as "Those Riots", Nick and John don't ask why they don't just fill all those potholes in? Instead there's chat about the Creation Museum in Kentucky, to which neither John nor Nick has visited. And we strike upon the reason the dinosaurs died out!
Learn how to make mayonnaise, while Nick proves himself to be the new Michael Winslow, and soaks a mug of tea into John's favourite chair. We prove that eggs are magic, and then plot selling Rock, Paper, Shotgun. Is the Bible magic? Is Rob Newman magic? And then some spectacular impressions of Melvin Bragg. We complain about more rubbish radio comedy, and then put our surviving listeners' minds at rest.
Please consider writing a review on iTunes. It's a really good way of raising our profile. And keep on tweeting and so forth.
Make sure to follow us on Twitter @rumdoings. If you want to email us, you can do that here. If you want to be a "fan" of ours on Facebook, which apparently people still do, you can do that here.
To get this episode directly, right click and save here. To subscribe to Rum Doings click here, or you can find it in iTunes here.
Or you can listen to it right here!
[audio: http://rumdoings.jellycast.com/files/audio/rumdoings_e82.mp3]
:podcast, rum doings