by John Walker on Jul.08, 2011, under Rum Doings, The Rest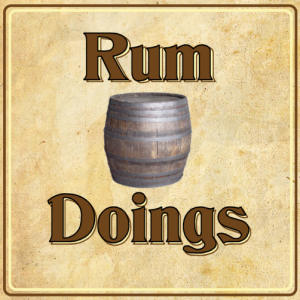 In episode 77 of Rum Doings things return to normal. Just John, Nick, a bottle of rum and a microphone. Aaaaand relax. So we don't discuss: is yet another washed out, rainy British summer the final nail in the coffin of the global warming conspiracy.
There's some familiar complaining about how rubbish our listeners are, which somehow takes us into a dangerous new territory of telling jokes. This has portent. Fortunately we're diverted by Nick's exciting throat news, and then Nick ATTACKS John over how hard John works on this podcast, because Nick is a BUMFACE.
We voice some thoughts on mobile phone hacking, and then get onto grammar, which takes us to Nick's education, and the books we were taught at school. Encounters of racism in childhood lead us back to horrendous jokes, and the floodgates are open. A diversion into the remake of Dambusters, and the nature of the n-word, then offending the religious.
Please consider writing a review on iTunes. It's a really good way of raising our profile. And keep on tweeting and so forth.
Oh, and at least leave a comment, you heartless bastards.
Make sure to follow us on Twitter @rumdoings. If you want to email us, you can do that here. If you want to be a "fan" of ours on Facebook, which apparently people still do, you can do that here.
To get this episode directly, right click and save here. To subscribe to Rum Doings click here, or you can find it in iTunes here.
Or you can listen to it right here!
[audio: http://rumdoings.jellycast.com/files/audio/rumdoings_e77.mp3]
:podcast, rum doings