by John Walker on May.21, 2011, under The Rest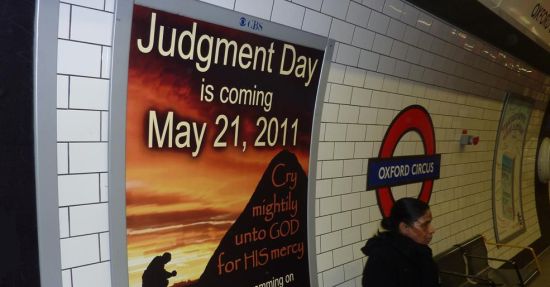 I've been having a lot of fun this week, laughing at the ridiculous behaviour of Harold Camping and his followers as they so fervently predict a Judgement Day for the 21st May 2011. While such end-time predictions come up frequently, this is the first to have really caught the imagination of the internet, leading to all manner of spoof sites, news stories and Twitter attention. The profile of today's rapture is a lot higher than any of the huge number of others that have been popped in the diary previously. There's all sorts of excellent ideas around like this, this and this.
Come today – the day it all kicks off according to Mr Camping – I find myself feeling more sadness than anything else. Because for anyone who's been fooled by this nonsense, tomorrow could be a really crappy day.
There's no doubt that I feel a sense of glee about checking out Family Radio's site tomorrow morning, and seeing how they wriggle out of it. But then I remember that there's actually thousands – perhaps even many more – of people who have been tricked by this, and will have their faiths rocked, if not destroyed, when they don't get their earthquake. Naive faiths, built up for them by the cruel or the stupid, that focus on the self-centred, narcissistic bastardisation of Christianity that preaches individualism and an eschatology of destruction and death. Whether you believe that the world won't go tits up today because you believe there is no God in the first place, or because you believe what God said about no one knowing when such changes may occur, I'm going out on a limb and suggesting we can all agree that come tomorrow a lot of these people are going to be shattered.
Is it a good thing? It's a good thing if there's someone there to look after them, and the thickly stupid nature of their thinking is broken. They can have a chance to shed such unhelpful thoughts. But the chances are they'll be left with the same people who conned them in the first place. So it's a pretty sad thing.
Either way, tomorrow's going to be interesting. Harold Camping, Family Radio, and eBible Fellowship, aren't exactly hedging their bets. From their website's FAQ:
What if May 21 ends and nothing occurs?

The Biblical evidence is too overwhelming and specific to be wrong. Christ's people can look with great confidence to this date because God promises His "beloved" He will not come upon them as a thief in the night. God in His mercy has revealed the vital information needed to know the day. Judgment Day on May 21, 2011 will occur because the bible declares it. Anyone whom God has not saved will arrive at that day with no hope for salvation. God warns simply the "door will be shut."
So that's nice. A very reasonable question they must be asked a lot somehow manages to crowbar in a way of saying, "If you're asking this, you've no hope." What a phrase for a Christian to use.
"No hope."
It's hard to imagine a phrase that more horrendously misses the entire point. But there you go – there's no doubt whatsoever.
This "overwhelming and specific" evidence is so hilariously nonsensical that it doesn't even merit taking apart. It sort of takes itself apart as you attempt to follow it, which you can do here. Ah – so when God say "seven days" about something completely unrelated, what he meant was "seven thousand years", which is today, if you date it forward from a date he made up about an impossible event that's described in an allegorical poem. Infallible!
The same bonkers application of random verses from all over the Bible, plucked out of context and then glued together, is behind their conviction that despite Jesus unambiguously telling them the precise opposite, they have special permission to know the date for the end of the world. So don't you go pointing that out to them either. In fact, brilliantly, they claim it was impossible for anyone to discern the doomsday date before 1988, because – er – he says so.
But of course look a little deeper in their "facts" page and you see the true character of these people emerging. What are their signs of the end of the world arriving?
"Jesus warned of several spiritual signs, such as the complete degradation of the Christian church, the devastating moral breakdown of society, the re-establishment of National Israel in 1948, the emergence of the 'Gay Pride Movement', and the complete disregard of the Bible in all of society today as direct evidence of His return."
Ah, the agenda becomes so clear. It's them Jews and them gays. If there's any doubt that their doctrine is routed in anything other than hate, dispel it. It always bewilders me that people who make their living digging through the Bible for verses they can pluck out of context to condemn can miss the bit where Jesus was Jewish, and, er, didn't hate people. But so it goes.
Of course, lovely Mr Camping took his followers through this all once before. In 1994 his maths infallibly proved to him that armageddon was fast approaching, with all the accompanying fuss. But, well, oops. However, he's got that covered too!
"In 1992 Mr. Camping wrote a book entitled 1994? In that book Mr. Camping highlighted the abundant evidence pointing to 1994 as a probable year of Christ's return. Given the abundance of information pointing 1994 and the urgency of time, the book 1994? was written. Mr. Camping felt as a teacher, he must share the Biblical information he had found and warn the world."
Right?
"Important subsequent biblical information was not yet known, so this book was incomplete. Mr. Camping warned there may be something he overlooked therefore the question mark was prominently placed on the title."
Oh! Oh well that's fine then. Clearly the Bible wasn't finished in 1994.
"Mr. Camping wrote on pages 494 and 495 of the book 1994? he believed 2011 was the most probable year of Christ's second coming. Given the fact 2011 is the 7000 year anniversary of the flood, but he misunderstood Jesus' teaching in Matthew 24 verse 22 "except those days should be shortened"."
He wrote that in his book "1994?" did he? But this time it's "infallible" so no need to worry about a repeat! Why?
"In the nineteen years since 1994? Was written the biblical evidence for 2011 has greatly solidified. Today there is no longer any question, May 21, 2011 is the day in which Jesus Christ will return."
To be honest, I'm impressed. To exhibit not a glimmer of humility, to maintain such extraordinary arrogance in the face of having been so wildly wrong, can't be easy. And to give Camping some credit, he did something few do – his second prediction in '94 was very likely to be outside of his own lifetime. It does seem to be the habit of these soothsayers to somehow always predict the end of the world to happen in their own time on the planet. You rarely here someone screeching in the street that the four horsemen will come trotting in in 2134. That Camping has lived to see his 2011 prediction is pretty impressive, since he's now 89. Of course, it might be a result of just pure stubbornness.
So, well, if the world starts falling to bits today, boy will I have egg on my face! Just, if we could avoid having any coincidental earthquakes today God, that would be mighty helpful. Thanks.
They're wrong, by the way. There is hope.
:end of the world, Harold Camping, Rants