by John Walker on Jan.29, 2011, under The Rest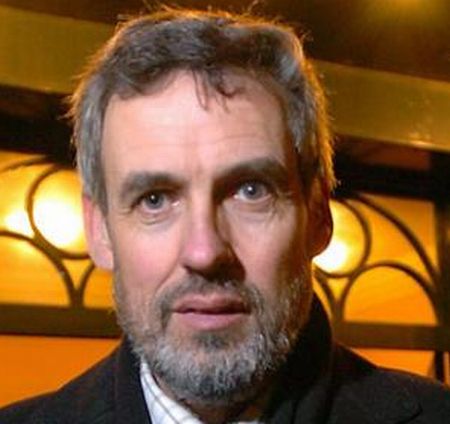 Today the Daily Mail has a sad story in which the ex-wife of Christian Voice front man, Stephen Green, explains how he mentally and physically abused his family for many years.
Stephen Green came to fame when the BBC announced they would air Stewart Lee's Jerry Springer: The Opera. Considered by Green to be blasphemous (and by Christians who can think to be satirical), he vociferously campaigned against the broadcast, and then against the stage show itself, and succeeded in bankrupting the previously successful production. But his real victory was a strong media presence, his name being put at the top of most media outlets' contact books for matters of Christian controversy. Despite it being abundantly clear that he was an extremist, and despite his organisation repeatedly having been demonstrated to be pretty much just Stephen Green in a mobile home, everyone from the BBC to the tabloid press would seek a quote from him if they wanted to spin a story as conflicting with an imagined version of Christian values. He was guaranteed to deliver, saying something printably outrageous. His ludicrous views would be countered by those affected by the story, and in the publication's mind some manner of editorial balance had been achieved.
But most interesting is the Mail's relationship with the man. Their latest story describes Green as a "monster", a "fundamentalist." The article goes on to note,
"Stephen was immersed in Christian Voice, which allowed him the autonomy and freedom to express his increasingly bizarre views unchallenged. As its founder and director, he was answerable to no one."
And just who was it who was letting Green's views go unchallenged?
Well, take for example this article about student stunt marriages that appeared in a newspaper just fifteen days ago:
"The students' wedding was condemned by Stephen Green, national director of Christian Voice, an organisation that represents Christians."
The story then goes on to quote Green at length, without editorial comment. And which paper is it who let this extremist monster go unchallenged? That would be the Daily Mail.
Two weeks ago he was a man who "represents Christians". The same paper that today explains that his views were already becoming extreme and unrepresentative in 1992. But their relationship goes back much further.
On the 31st December 2010, the same paper sought council from Mr Green regarding a berserk take on a government site that helps divorcing couples make it easier to manage their finances.
"'If you draw up a list of things that are important when weighing up whether or not to get divorced, you wouldn't start with the financial consequences – you would start with your children.' Stephen Green, of the pressure group Christian Voice, said: 'I am worried that schemes like this reinforce the idea that divorce is just a natural progression from marriage."
Says the divorced father of four, who is alleged to have beaten his children with brooms.
"It suggests that divorce is socially acceptable and that's worrying because financial calculations don't take into account the emotional cost to children and parents."
Roll back to the 11th December, and a brilliant daft headline claims that "Stores airbrush Christ out of Christmas cards". Stores, doing no such thing, instead don't stock enough Christian-themed cards to sate the Mail's fevered love of pictures of the baby Jesus. So to whom do they turn for a balanced comment on the matter? Surely not a man who has been known to be an extremist, fundamentalist for at least eighteen years?
"Stephen Green, of Christian Voice, said: 'The situation is caused by managers subscribing to political correctness and the idea that in some way Christian cards are offensive to other religions. This is simply not true.'"
On the 26th November 2010 a rather inspired primary school had the idea to stage a wedding between two of their pupils, as part of an English comprehension exercise. This disgusted the Daily Mail, who – with impressive imagination – managed to make it a sexual matter. The story, quite brilliantly, maintains throughout that the children were officially married, which is a bold angle. So thank goodness there was someone on hand to go completely unchallenged with his views on the emotional instability of others.
"Religious groups have also expressed their fury at the idea. Stephen Green, from Christian Voice, said: 'It seems like a really peculiar idea. There is this question about how the idea of being "married" plays in a five and six-year-old's mind. Marriage is for grown ups and this is a worrying idea to have this wedding for kids in these days when we seem to have the increasing sexualisation of our children. I'm not sure why a teacher is encouraging children to handle these kind of emotions. You have to start thinking what is going on in that teacher's mind? This is going far beyond teaching children to read and write. There is some sub-text here, and I would question the emotional state of the teachers concerned.'"
On the 13th of the same month, the delightful Quentin Letts was horrified that Bill Bailey had pointed out that the Pope has done little to address the widespread abuse of children in the Catholic church. Fortunately he could turn to a man whose ex-wife claims is experienced in abusing children for a witty comment.
"Stephen Green of the pressure group Christian Voice said yesterday: 'I feel an act of Christian witness at Wyndhams coming on. Any excuse for evangelical outreach!'"
Back on the 20th August 2010, a story headlined, Gay vicar, 65, to 'marry' Nigerian male model half his age (ignoring the bit where he's no longer a vicar, but hey-ho), detailed how the former vicar plans to marry his partner, 25 year old Nigerian, Bobby. For such a story, who better for the Mail to approach for a comment than a man who has also disobeyed the strict rules of his fundamentalist religion by divorcing and remarrying, indeed to an African 25 years his junior!
"However, the service will not be a blessing, which is forbidden by the Anglican hierarchy for homosexual couples. But Stephen Green, director of campaign group Christian Voice, yesterday described Mr Coward's marriage 'an abomination before God'. Mr Green added: 'Mr Coward is just an emotionally disturbed man trying to inflict his predilections on the rest of the Church. I fail to recognise him as a Christian because he doesn't keep the commandments of Lord Jesus.'"
He appears again on the 23rd June, to point out how atheists should all be forced to pray and go to church.
"But Christian Voice director Stephen Green said he was appalled to hear of the ban. He added: 'This is just another example of Christian traditions and values being eroded.'"
In August 2009 the Mail needed expert comment on a scientific matter, regarding "The monkeys that prove babies can be born to THREE parents… and may be the key to halting genetic illness". Well, you'd want a man who ran a company putting roofs on houses then.
"Stephen Green, director of pressure group Christian Voice, said he had concerns that scientists were going 'too far, too fast' and 'playing God'… When the child finds out they have two mummies, how will they feel?
Oh, and by the way, January 2009 saw the Mail utterly outraged that the Advertising Standards Agency had prevented a Christian advert from presenting complete lies about the cervical cancer vaccine. The completely unscientific claims from a Christian organisation suggested that the HPV vaccine caused infertility. But not directly! Because teenagers were receiving this measure to prevent one of the most deadly, and yet most easily prevented forms of cancer, they'd rush off to have lots of sex and thus contract STIs that then lead to infertility.
"It is simple common sense to realise that with the HPV vaccine, girls will think they are covered against everything, especially if they are on the pill as well, so promiscuity will rise and there will be even more gonorrhoea and chlamydia cases and even more infertility."
So which Christian organisation was it the Mail allowed to dominate the story, without seeking any expert opinion to balance or challenge the detailed views? Why, it was Christian Voice!
That's just the last two years. The paper has been seeking comment from Green on every matter they can think of ever since his prominence in 2005. But today it's all entirely forgotten.
:daily mail, Rants, stephen green