by John Walker on Dec.14, 2010, under The Rest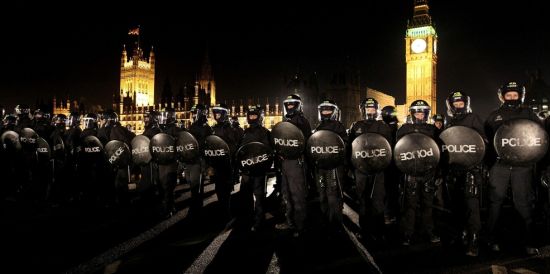 And I was nearly on my way to bed before 1am before I saw this link. Yesterday, the BBC reporter Ben Brown took on his toughest target yet, the man with cerebral palsy dragged from his wheelchair by police during the student protests last Thursday. And although that sounds like sarcasm, it turns out to be true. While it doesn't take a great deal of effort to make a man like Brown look like an idiot, Jody McIntyre does it with grace and intelligence completely undeserved by the moronic anchor.
Here's the full interview, which unfortunately contains quite a few skips:
So in the footage we see a man sitting in his wheelchair, barely moving, being attacked by four police officers. Two in full riot gear, because you can never be too careful with those CP types. One drags him across the road by his arms, dropping him on the tarmac. This is the second time that evening that McIntyre has been dragged from his wheelchair, the first time also hit with a truncheon. But this was the time it was filmed.
Perhaps I'm mad from keyboard fumes, but this strikes me as a story about police brutality. But that's not how crack journalist Ben Brown saw it. This was his chance to get a confession out of one of the most dangerous rioters of them all.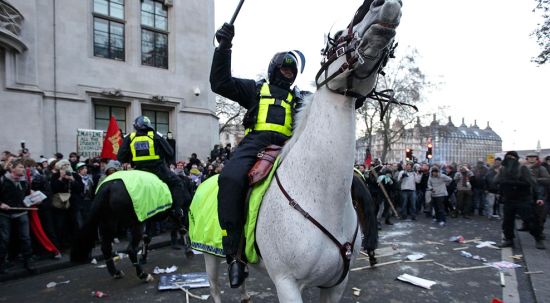 Let me stress, I don't believe that McIntyre deserves special treatment because he's disabled. I hate all disabled people, and their disabled showing off, like any right-minded individual. And it does seem that McIntyre is a frequent troublemaker. But I do think that perhaps his physical limitations should be taken into account when making wild accusations against him. I'm all for assuming equal abilities, but since I didn't see his robo-mecha suit in the video, I'm guessing Brown's peculiar line of questioning about throwing rocks to be perhaps a tiny bit utterly fucking moronic.
I say "peculiar". What I mean is "horrendous". But such is the complete desperation of the BBC to assume the police line on any matter. They will stretch to such ludicrous places. I'm not saying this as some SMASH THE STATE! anti-establishment loony. I'm far too lazy to be that. It's more of an analytical response to the bewilderment I felt while watching the live coverage on Thursday.
During the blanket coverage on the BBC News Channel, we were shown near-constant helicopter shots of the crowds as they were brutally attacked by the police. I watched an officer repeatedly punching a teenager in the head until one of his colleagues put a hand on his shoulder and presumably mentioned he should probably stop the beating now. I wasn't watching with special magic eyes – it was in the centre of the image of the crowd. No reporter or anchor mentioned this sight immediately in front of them. That was within a minute of switching the footage on. The agenda was clear.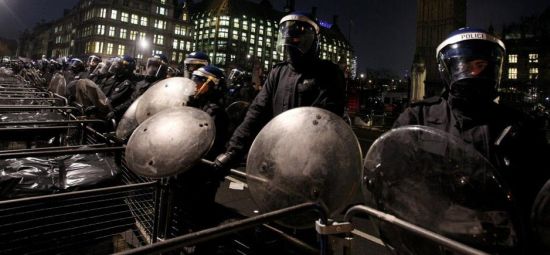 Supt. Julia Pendry was the bitter voice of the police for the day. How on Earth anyone thought such an antagonistic, aggressive and seemingly pathologically deceitful police officer was a helpful spokesperson probably says everything about the shambolic state of the police. Every time she appeared she would directly contradict anything she'd previously said. And at no point at all throughout the day did any of the BBC's news staff question her on this. She began the afternoon telling us that the students were able to leave at any time they wished. They were penned in. She told us that the students had diverted from their course against police will. According to previous reports by the BBC the police were the ones to divert the wayward crowds in the direction to which she so objected. She said that the students and teenagers had only been "kettled" (not an appropriate term when there's no way out, since the steam absolutely cannot escape) after the violence had begun, when the BBC had shown and repeatedly explained that they were trapped long before any unrest began. The worst had been a few thrown paintballs.
As evening approached she announced that they were now beginning to release students from where the police had kept them. No one challenged on her having said they were free to leave at any point all afternoon. Also, the police weren't allowing anyone to leave.
Later still she explained that they couldn't let anyone go home because of the violence. This was while there was no violence occurring, but shortly before the most violent moments occurred when freezing students finally had enough. No one pointed out that she'd said they'd been allowed to leave all afternoon, and that she'd said they were being allowed to leave an hour before.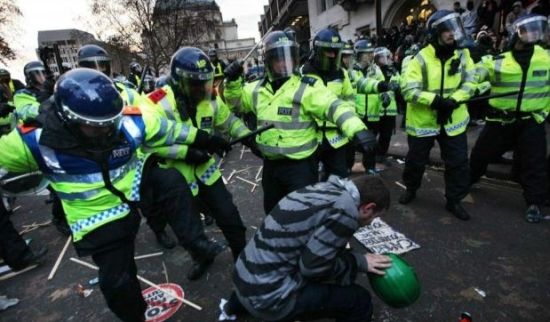 The farce became even more pronounced when the BBC anchors started informing their own reporters that they were wrong about the students' being trapped. The excellent Mike Sergeant explained that they were unable to leave, to which the anchor replied informing him that he was incorrect, because the police lady had said so. He again tried to explain that no one could get out, and lots of scared children wanted to go home, but was cut off by the anchor again sternly telling him off for disagreeing. It was blink-inducing.
Ben Brown, also out in the crowds, was being stupefyingly stupid. Some students had set fire to some rubbish, which confused Brown to such an extent that he could barely speak in sentences. Apparently witnessing the orangey magic for the first time, he stammered nonsense about how enormous it was (it was smaller than your average campfire), attempting poetic descriptions of the plumes of BLACK SMOKE rising into the night sky. It was a small wonder he didn't strip naked and start screaming. This did lead to one of my absolute favourite moments of the entire day, when he incredulously asked one of the protesters, "What's the point of lighting fires in the middle of Parliament square? What does it achieve?"
"It's a bit cold," was the student's unimprovable reply.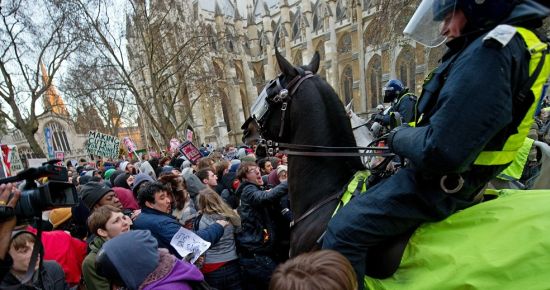 When rocks were being thrown by the crowds, Brown – so very proud of getting to wear one of the police helmets (Look daddy! It's like I'm in Afghanistan!) – picked one up and then described it for something like nineteen hours. He couldn't get over how big it was. First fire, then rock. It was a big day for Brown. As twelve riot officers suddenly charged a couple of teenagers graffitiing a wall, their batons raised. Never mind that Ben, tell us about the rock again.
I naively thought at one point in the afternoon that 24 hour coverage, with constant live footage, meant that moments like the police charging the crowd of teenagers on horseback couldn't be buried as they would have during the 1980s. A completely unprovoked and terrifying attack had been caught on film. Surely now, surely this would force questions to be raised. But by the evening this moment was buried, forgotten, with Superintendent Pendry's delusional version of events having replaced any of the things we'd all watched happening. By the evening the police had only responded to violent attacks from students, with nine officers taken to hospital with bruised fingers or sore knees, and one with "serious head injuries" after he "fell off his horse". He's disappeared now of course, and even Pendry didn't have the gall to suggest that someone actually knocked him off his horse. But anyone who'd been watching for more than an hour knew this wasn't true. And presumably the BBC reporters knew it wasn't true too. They'd said themselves how surprising and shocking the horse charges had been. And while we were told about the injured policemen every two to three minutes, with the same written on the scrolling captions every thirty seconds, there was no reporting whatsoever, all day, of specific numbers of protesters who'd been injured. Occasionally a reporter on scene would see an ambulance carting one off, but it was quickly ignored.
Of course every time Brown would try to tell off one of the students he spoke to for being such naughty targets, they'd spoil the illusion by saying what they'd actually seen, rather than what the police had told them they'd seen. Stories of school kids wandering around with blood pouring down their faces, tales of children being crushed as students fled from the police rushes, and many personal accounts of people having been hit, or seen their friends hit, by batons, were rife. But somehow never reported later. And Alfie Matthews, the 20 year old now requiring brain surgery after being hit in the head by the police, went completely unreported.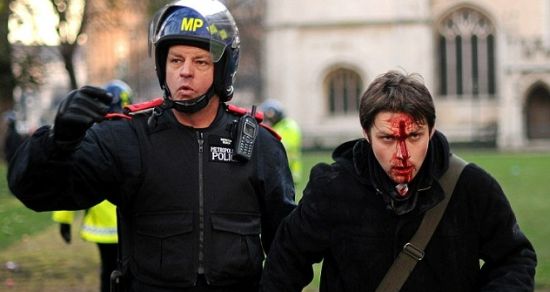 The Matthews story doesn't stop there. The police genuinely attempted to stop his being taken to the nearest hospital, as his brain bled, because they didn't want students being treated in the same place as their officers. Fortunately the ambulance driver was too horrified by this to obey, and ignored their instructions. But no mention on the day – but you be sure that nine police officers who aren't named or identified have been inspecifically injured.
And of course this peaks with Brown's astonishing interview above. Clearly if McIntyre has previously professed revolutionary desires, it's the reporter's job to question him on this. And Brown could have done so with whatever level of aggression he felt necessary. But to so openly suggest that "rolling toward" the police – in a wheelchair he'd just explained he can't operate – was in some way a reason for being attacked, is mystifying. To then – after he'd had it explained to him that the physically disabled man couldn't move his own wheelchair – repeatedly demand of McIntyre whether he'd been throwing rocks seems like parody. Is he really asking that?
But to behave in any other way would be to suggest that the police had done anything inappropriate. After all, if he hadn't filed a complaint immediately, how could the police have acted in an improper way?
The vitriol with which he questions McIntyre is just strange. Although as quickly as it becomes apparent how much smarter McIntyre is than his interviewer, so does Brown's hostility rise.
Brown's a disgrace. McIntyre comes out of it very well, thanks to his calm responses, and disgust with the questions. (It's quite a shame that he attempts to make it be about some anti-Palestinian bias – the BBC couldn't be more pro-Palestine if they funded Hamas.) And the BBC continues to believe that it is in some way required to report whatever the police say, without question. We should perhaps be wondering about this.
:bbc, police, Rants