by John Walker on Oct.21, 2010, under Rum Doings, The Rest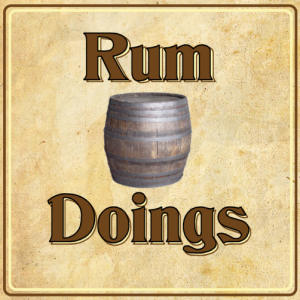 Episode 46 of Rum Doings begins with confusion over Ghostbusters cartoons. It turns out that Nick was talking about this, while John was talking about this.
Not being discussed this week: Staycations. But Nick does want to discuss synthesised theme tunes. After quite a long diversion into this week's vile drink, John steers the conversation toward the Insane Clown Posse. This video being key:
This was inspired by a wonderful article by Jon Ronson, which you can read here.
Then it's time for Nick's polemic against Poetry, which gives John an excuse to rage about how much he dislikes Poetry Please.
And now here's your homework. A full critical analysis, and what it means, sent to our email address. By Tuesday morning, please.
An ode to the tcp/ip protocols.

A war of ice but doomsday thaws beneath
A map of ink, once breached, a world unsaved;
A frigid winter beckons, deadly wreath
To words not launched, so bombs subsume the grave.
But missiles questing on their morbid route
Still need some tangled speech to guide them through
A chain of words in terminal pursuit
But wordly packets glitter forth like dew
They spread themselves betwixt the frosted blades
Fecundity of knowledge jumbled up
Re-formed at every end in liquid braids
Of speech now flowing into Man's shared cup
For Cerf and allies thought it for the best
That flames be naught but datagrams of text
We consider if accents can be racist, ban "How are you?", and complain about dreaming. Then Nick sings for us. And then completely ignores John's attempt to sing back. There's a teaser for a future discussion of CAP Alert, and then thoughts on Mary Poppins.
Tweet it, Facebook it, as strangers on Formspring about it. Do whatever it is that makes the internet work. And writing a review on iTunes makes us happy in our tummies.
If you want to email us, you can do that here. If you want to be a "fan" of ours on Facebook, sigh, you can do that here.
To get this episode directly, right click and save here. To subscribe to Rum Doings click here, or you can find it in iTunes here.
Or you can listen to it right here!
[audio: http://rumdoings.jellycast.com/files/audio/rumdoings_e46.mp3]
:podcast, rum doings