by John Walker on Oct.11, 2010, under The Rest
Here's two new pictures of Dexter, because people keep asking for them. I realise that I'm a person blogging pictures of his cat, but it's everyone else's fault. Click on them for big versions.
First, this is from yesterday. I was playing [unreleased game – Censorship Ed] and finding it rather dull. Dex curling up on the desk between my arms on the mouse/keyboard made it a lot more fun.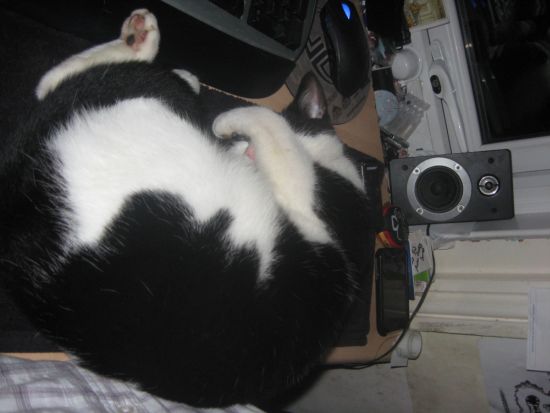 Dexter likes to sleep on clothes. Given an entire duvet, he'll sleep on the dropped t-shirt or trousers. In fact, occasionally he'll jump up on my bed and let loose an enormous, disgusted MEOW if he can find no clothes to curl up on. Pointing out to him that the entire duvet cover is essentially a giant piece of material has no effect. He especially likes to sleep on clean clothes, in order that they can quickly become clothes covered in cat hair and whatever lifeforms he's brought in with him. His will to find clean clothes to sleep on was taken to a new level today: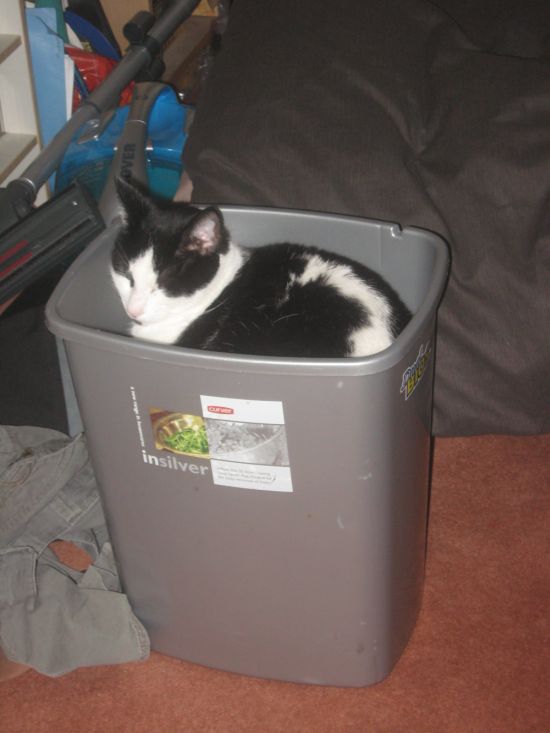 A few more at other angles below.
:Dexter, photos