by John Walker on Jul.12, 2010, under The Rest
This weekend I took the opportunity to escape the hectic hustle and bustle of the Bath metropolis, and get myself out to a distant, confusing land, almost untouched by humans. Devon.
Which means, of course, staying in a B&B. The Great British bed and breakfast can be a mixed fare, but my previous experience was superb. Staying near Malvern, at the Severnside B&B. An amazingly friendly place, great room, and remarkable breakfasts, it was so pleasant as to have me forget the normal nature of staying away in the UK. As the name implies, it's right on the bank of the Severn, an extremely pretty place, and not very expensive at all. So hopes and expectations were high for our visit to Woolacombe's… well, let's call it Ploppytops to avoid Google results.
Ploppytops looks more like a motel from the outside than a B&B. It's very wheelchair friendly, but unfortunately is also very dog friendly. Meaning that stupid yappy creatures can appear at any moment.
The lady running the place is peculiarly direct. Orders are barked at you, rather than suggested. "You will pay now," I was instructed, after I'd collected my key. "This is YOUR room," she informed Laura as we reached it, apparently our preferences not of interest to her.
The bed on which this post is being typed appears to have deliberately placed the mattress springs on the outside – an odd design choice, and one currently assaulting my elbows. The other bed in my room (B&Bs cannot tolerate the notion that one person may want a room for himself) is more comfortable, but makes noises akin to explosions with every movement, including blinking.
The shower in my room made me laugh out loud. Both days. Turned up to full, and the shower head adjusted to the exciting sounding "JET", I watched as it dribbled out a few droplets of water. After standing under it for about five minutes I began to detect the first signs of feeling wet. My own surgery on the thing achieved what was barely enough lukewarm water to wash under, and yet mine was the fortunate shower.
Laura's room had a really rather exciting en suite. Seemingly designed for disabled guests, it was a "wet room", decorated in tempting red emergency pull cords, where the shower is not segregated from the rest of the ablutive porcelain. When she learned that turning the shower to 'hot' caused all the lights in the room to dim, it became a slightly less appealing prospect to stand beneath.
Perhaps the most peculiar feature is the omnipresence of air fresheners. Each is approximately ten inches tall, featuring a single green glowing eye on the front, appearing in every room, on every shelf, and even nailed to the walls in the corridors. There were three in the dining room. And each, every minute or so, lets out an exhausted asthmatic cough, along with a faint puff of the dusty aroma that hangs permanently in the air. They stand like shrunken, white monoliths, their staring green eyes watching you in every inch of the building, monitoring your every movement, and huffing out their paltry breaths to conceal any odours you might emit.
After the Severnside's wonderful home-cooked feast, my hopes for breakfast were perhaps unfairly buoyant, but enough of this building's sagging 70s weirdness had led me to expect otherwise. What arrived was a patriotic tribute to all that is British about accommodation. A thick and utterly enormous rasher of unchewable bacon, a single sad tomato warmed to the middle, a small puddle of baked beans, one thin, peculiarly grey sausage, and a few almost-cooked slices of new potato, which the menu had boldly chosen to call "hash browns". And when I turned the egg upside down, I regretted what I'd consumed so far. This was accompanied by slices of ice cold toast that had been prepared in such a way as to turn them to explosive powder when bitten.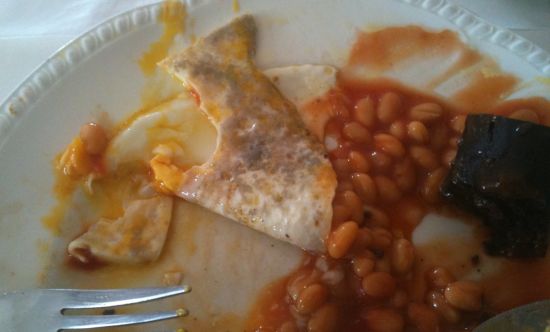 But the most important feature of breakfast was the orange juice. As all British people know, freshly squeezed orange juice is a potion of such rarity that it must be treasured and served only in the tiniest of tumblers, lest a giddy guest imbibe too much and become quite out of control with tingling excitement. However, when your thimbles of liquid have been decanted from a long-life box of reconstituted watery rationing, it screams miserliness and disgust with your guests' existence. "You don't deserve my precious ASDA Smart Price orange juice from concentrate! But I will allow you a single sip."
Of course, decaf was not an option. In fact, so perplexing was my query as to whether they had non-instant decaf available that even after explaining it twice, politely and with a smile saying that it was no matter, our host returned and interrogated me a third time to find out what mystical beverage I had tried to describe. "What do you normally drink?" she surprised me with, appearing from behind. "Decaf that isn't instant," I said for the third time. Apparently this time it penetrated. "No, we don't have that," was the scolding reply, spoken as she turned to walk away.
(However, to give the place its dues, there was a full, squeezy bottle of Heinz tomato ketchup available to the dining room.)
Such places, with its wonky paintings of beaches on the walls, piles of pamphlets for what local attractions offered two years ago, and 70s décor, don't seem to be the sorts of accommodation that might have flat screen televisions in every room. A strange anomaly, this modern feature stands out peculiarly against paisley curtains and orange walls. In fact, there's a very odd theme of misplaced opulence throughout, in striking contrast with the beds, carpets and attitude. The guest lounge looks like a room from a futuristic hotel, an astonishingly vast wide screen hi-def television dominating one wall, the room lined with rich, comfortable black leather couches, looking brand new. Only the bookshelf of Clive Cussler novels and pile of decomposing board games in one corner give the game away.
And outside the building, in the front car park, are parked two red vehicles, one a vaguely trendy useful looking car, the other a sporty, sleek and expensive looking two-seater, each new, each emblazoned with the "PLOPPYTOPS" name across windscreens, and bonnets and side panels. Their existence makes so little sense that one can only stare at them and blink in confusion. Are they sponsored… by themselves? Did they win the lottery, and decide to live out their dream of running a B&B?
Perhaps it is good for one to encounter the traditional British hoteliers (putting the hostile into hostelry). It keeps one humble, hungry, and reminded of the importance of orange juice.
:holiday, Rants