by John Walker on Apr.01, 2010, under Rum Doings, The Rest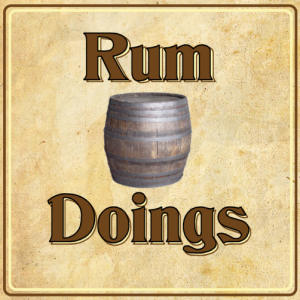 This week we welcome back Martin Coxall for a second appearance, after last week's was so lovely with him. Don't worry if you're a purest – we've since had him sealed in concrete and buried in the North Sea, and next time it will be back to just Nick and John.
The topic not under discussion is: Is the creeping cancer of violent videogames corrupting our kiddies? Moving quickly on, we discover that John wants to be a tall poppy, and then move on to the drinks Martin bought for us. A tub of coconut milk, and a tin of Nourishmilk. Which will be so revolting we pour it down the sink? How can you resist finding out? Then discover what Nick and Martin really think of John when he's out the room.
Find out how to circumnavigate a gastric band, and then discussions of the two types of hunger. Nick lectures two fat people on how to be thin, which inevitably means discussing the Cheesecake Factory and desserts. Then a really quite heated debate about strawberries, woolly jumper apples, the ripeness of bananas, and the sheer arrogance of rhubarb.
Which countries have the worst breakfasts? And what's the best offal? Then continuing what's become a food theme, there's more discussion of custard and Angel Delight than you could possibly have hoped for. If you wish to defend chocolate custard, get in touch at the email address below. And after, thermal conductivity.
Which would be more dangerous to come back to life, the raptor or the t-rex? Learn how to bring them back to find out! And how Ridley Scott could kill us all. What noise did a dodo make? And where did chickens come from?
And then… I'm not even going to associate myself with it. I think it might be the funniest moment on Rum Doings ever. Be warned, it's not okay for gentle ears. In fact, let's never speak of it.
Don't keep it all for yourself, let other people know about this episode, by whichever means you think best. And writing a review on iTunes helps us a great deal. Thanks to everyone who has, and the lovely things they've said. We love you.
If you want to email us, you can do that here. If you want to be a "fan" of ours on Facebook, for some ghastly reason, you can do that here.
To get this episode directly, right click and save here. To subscribe to Rum Doings click here, or you can find it in iTunes here.
:podcast, rum doings