by John Walker on Mar.26, 2010, under Rum Doings, The Rest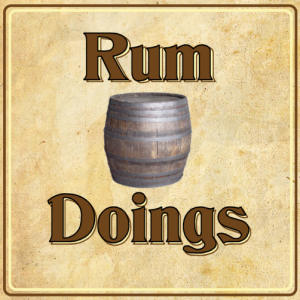 This week in episode 22 we're not discussing: Is Britain now too much in the thrall of the celebrity culture? Which is harder to say than you might imagine.
Joining us this week, as a special guest, is non-celebrity and friend of ours, Martin Coxall. Nick and I have known him for almost as long as we've known each other, so he's a natural inclusion into this nonsense. Martin sits in the creaky chair, and provides the creaking John would more usually offer.
Things begin with criticising John's road rage, then criticising John's pronunciation of years, and a quick insult to the pope. Then we open the mysterious bag containing a mystery rum gift from Victoria, Nick's wife. What will it be? Will it inevitably be horrible? But then, calamity! An entire pint of coffee is spilt on the carpet, and gets dangerously close to dominating the entire recording.
Which is better for you? Special K, or Frosties? We reveal the TRUTH. We rant against the sanctimonious nature of breakfast cereals, the fear of buying tampons, and then more criticising of John for knowing about periods. That of course brings three men to discuss periods to a depth you probably didn't want.
What brought down the Romans? The shared bum-sponge we reveal. We complain about QI, ponder the life of the hobo, and confirm the importance of clotted cream. Then of course it's time to criticise John some more, this time in a reprise of berating him for his consumption of margarine. Sorry about the volume at this point, and your ear drums. Martin exclusively reveals what doesn't cause cancer. And here's where you can find out what does and doesn't cause cancer according to the Daily Mail.
We then have an email about Nick's dislike of clouds, which somehow becomes an explanation of how wretched Facebook is. Next, thunderstorms. Then religions and the census, and how one might go about being unbaptised, before we dissolve into a rather boring discussion of Star Wars, pleasantly interrupted by a sophisticated criticism of the French language.
Don't keep it all for yourself, let other people know about this episode, by whichever means you think best. And writing a review on iTunes helps us a great deal. Thanks to everyone who has, and the lovely things they've said. We'd appreciate it.
If you want to email us, you can do that here. If you want to be a "fan" of ours on Facebook, for some ghastly reason, you can do that here.
To get this episode directly, right click and save here. To subscribe to Rum Doings click here, or you can find it in iTunes here.
:podcast, rum doings