by John Walker on Mar.10, 2010, under Rum Doings, The Rest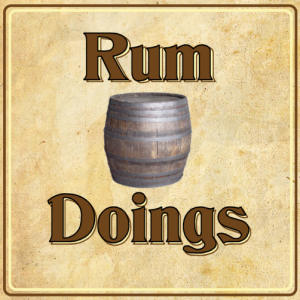 In a very special edition of Rum Doings, we are joined by comedy writer John Finnemore. We have discussed Mr Finnemore's work on Rum Doings in the past, especially the fantastic Radio 4 sitcom Cabin Pressure. He's worked on very many radio and television comedies, perhaps most notably as a lead writer for Mitchell & Webb on both Radio 4 and BBC 2, and despite this still agreed to join us for our twentieth episode.
There's a topic not under discussion this week too: how are we going to inoculate ourselves against Britain's road rage epidemic.
You'll not be surprised to learn much of the topics this week are radio and TV comedy – subjects we've spoken about a great deal before. We begin with Cabin Pressure, and quickly move on to the sitcoms that inspired Finnemore, especially Yes Minister. Then find out which surprising 70s sitcom David Mitchell is a fan of, as well as enjoy a brief dissection of The Fall And Rise Of Reginald Perrin. Nick attempts to get John W in trouble, telling tales about his disliking of Fawlty Towers, and then everything goes horribly wrong…
Finnemore defends Victoria Wood's 'dinnerladies'. Oh dear. It all falls apart. It almost comes to blows.
Fortunately we quickly move on to John Shuttleworth, good comedy we can all agree on. This takes us to Dad's Army, which in turn brings us back to Cabin Pressure, especially the desert episode and the fantastic appearance of John Sessions. Nick then launches into a brilliant attempt to tell Finnemore that he's wrong about the nature of one of his own characters – one he even voices himself. This leads to a lovely discussion of the nature of happiness, as viewed through the Goons.
After more discussion of Cabin Pressure, then talk of the relationship between The Mitchell & Webb Sound and Look, we arrive at the topic of comedians doing advertising. Then changing from commercials to the other side, there's talk of why the BBC is such a great thing but so desperately lacking self-confidence.
Huge thanks to John Finnemore for joining us for our twentieth episode. We strongly recommend you get hold of Cabin Pressure. It's a funny and warm radio sitcom of the like that's very rare today. You can buy both series from Audible here and here, or from iTunes here and here. Oh, and we should probably add that you can hear Finnemore on this week's episode of The Now Show, 6.30, Friday on Radio 4. Yes, we're aware of the irony of this.
Do let other people know about this episode, by whichever means you think best. And writing a review on iTunes helps us a great deal. We'd appreciate it.
If you want to email us, you can do that here.
To get this episode directly, right click and save here. To subscribe to Rum Doings click here, or you can find it in iTunes here.
:john finnemore, podcast, rum doings