by John Walker on Feb.14, 2010, under Rum Doings, The Rest
A few decades back something went horribly wrong in the UK. At a certain point, as a nation, we reversed the order of priority between customer and service provider. And nothing reveals this contempt demonstrated to consumers better than the provision of ketchup.
Now we all know that the way things should work is the volume of ketchup available being inversely proportional to the poshness of the establishment. Cheap and cheerful cafes should have a big bottle of the stuff available on the table. Then as you get more posh the amount drops down. A reasonably nice pub chain will, for instance, give you a ramekin dish filled with red sauce. Go from chain to restaurant and now the ramekin is only leant to you momentarily, for you to teaspoon as much onto your plate as you feel you can get away with. (I've declared no shame at this point, and will gladly empty it out – they've got more.) Next rung is they maintain complete control of the ketchup distribution, titrating a single millilitre of it onto your plate for you. Then above that requesting ketchup results in your being asked to leave.
That's all how we expect it to be in the lunatic version of society we should concede to accept. This is not something the UK is capable of adhering to. Because in the UK ketchup is a rare commodity, brought in by vast merchant ships from distant lands, traded for gold and precious jewels. It is an exotic elixir so rare and unusual that it must be reserved as an offering to the gods, or for visiting kings of neighbouring empires. We must preserve our precious ketchup resources, and we must ensure that no customer is able to dip their chips in more than half a teaspoon's worth, distributed in tiny plastic sachets that can only be opened using teeth.
Which is strange, because when you go into supermarkets they seem to sell enormous containers of it for insignificant amounts of money. This is indeed quite a mystery.
It is with all this in mind that I say: bring your own ketchup to the Hillside Cottage in Cheddar Gorge.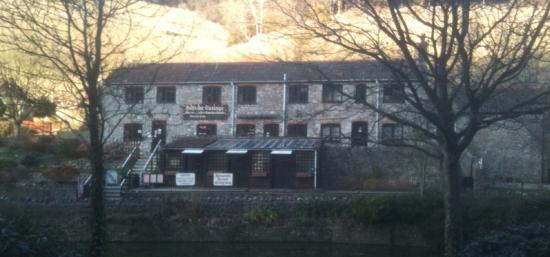 The picturesque street weaving through the tourist town is packed with cute, interesting shops to explore, taste peculiar cheeses, buy icecreams, and stare in giggly amazement at massively overpriced tat. And of course there's a thousand opportunities to get some food, perhaps a cream tea (a phrase now ruined for me by Rum Doings), and maybe a hot drink. The Hillside Cottage looks, from outside, by far the loveliest.
Inside it's a regular, pokey little cafe-cum-restaurant, run by a nice lady, offering meals at a decent price. £5 to £6 for a burger and chips is barely more than getting the same in MacDonald's, and no one should do that. Laura and I, spending Valentine's Day following the instructions of Mr Stuart Campbell by getting cheddar from Cheddar, thought it looked a good place to get some lunch.
Our food was pretty average. It tasted supermarket/cash-and-carry bought, hence the reasonable prices I suppose, but the chips were nice enough. However, things took a turn for the plain damned weird when our tray of condiments were brought over.
To any Americans reading I can only assume this will sound like the garbled description of an alien world. Because rather than having the surely appropriate bottle of ketchup on the table for an establishment selling burgers and chips, we were given two tiny sachets to share between the two of us. (Amazingly the same went for salt – little doll house packages, rather than a shaker. And vinegar was only available on request.)
When the friendly lady came to serve us the burgers I asked, "Could we get lots and lots more ketchup?" I've realised that asking, "Could we get some more?" in such places results in one more sachet. I've taken to saying things like, "Could we get an improbable amount more ketchup? About three times as much as you're currently thinking I'm asking for?" And it works. Normally they'll bring over a comedy amount, which is ideal, because then you can open the three or four necessary to get an adult's serving of the stuff, and there's plenty left over for them to take back.
Not at the Hillside Cottage at Cheddar Gorge.
"Could we get lots more ketchup?" I asked.
The lady's face went serious.
"Those two are free," she explained. I stared, bemused at what could possibly come next. "For any more there's a charge."
My jaw dropped. Laura flashed me a look that said, "Don't." I didn't.
Instead I just stared forward, the awfulness of the UK dribbling over me like a thick sludge.
The contempt with which establishments treat customers is beyond belief. I'm sure she's a lovely lady, and I'm sure the place is respectable in many ways. But to consider your customers beneath warranting one quarter of a serving of ketchup is beyond belief. It's gross. It's simply contemptuous. And it's endemic throughout the country.
The solution, and this is something I've been intending to do for a while, is to carry a small bottle of ketchup with me in my coat pocket. It happens so often, from chip shops (that will only offer you ketchup in the form of buying a glass bottle of the stuff at some exorbitant fee) to half of all cafes and restaurants, that it's the only reasonable solution. And then when other customers are in the same position of being treated by the establishment as utter scum not worthy of enjoying a plate of chips, I'll offer them some of mine. And society will become better in that instance.
Because until this is what we do, this is how our plates will look: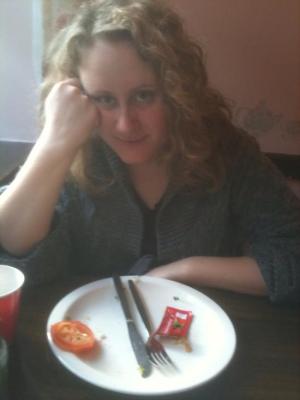 :
Rants