by John Walker on Jan.21, 2010, under Rum Doings, The Rest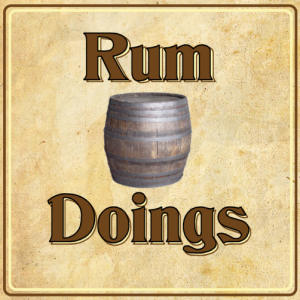 Sorry to sneak up on you, but look, it's episode 13. We're going weekly for, well, maybe a week. We'll see how it works out. Please let us know in the comments below, or to podcast@rumdoings.com, whether you would prefer weekly episodes, or the former fortnightly.
Distracted by a new rum, we take a long time to get around to introducing the topic we're not discussing: Whatever happened to sitting down for dinner as a whole family?
Instead we find ourselves discussing Scientology, random word snap, and then dive head-first into a chasm of self-indulgence, and discuss the Rum Doings origin story. How John and Nick met, the creation of (the now deceased) Glebe's Thrift Funnel, and then our dalliance with the stars. As regular listeners will remember, Nick and John have a "no false modesty" rule, and included in this is what so many call "name-dropping", but we call "talking about people we met." We relate the stories of our adventures in the nineties in which we met many of our heroes.
Apologies for the slightly annoying hollow mic noise that appears occasionally. You'll forgive us. Let us know what you enjoyed or didn't enjoy, either via email or comment below. Or leave a review on iTunes. And please, as ever, retweet and plug this link, help us get heard. We want to be heard by the w-hole wide world.
To get this episode directly, right click and save here. To subscribe to Rum Doings click here, or you can find it in iTunes here.
:podcast, rum doings