by John Walker on Jan.05, 2010, under The Rest
In case anyone thought I was kidding.
UPDATE! The weatherman on BBC Disappoints West just said, "As for tomorrow, that's in the laps of the gods." So there you have it folks.
So after 15 minutes of some very pretty snow about three hours before it was forecast, there's been nothing. In fact, it's rained. And then at about 3pm the Met Office issued severe weather warnings for the South West starting at 6pm, Bath to receive 15cm overnight, terrible conditions, all roads and rail to stop.
This is now the revised pattern for snowfall tonight: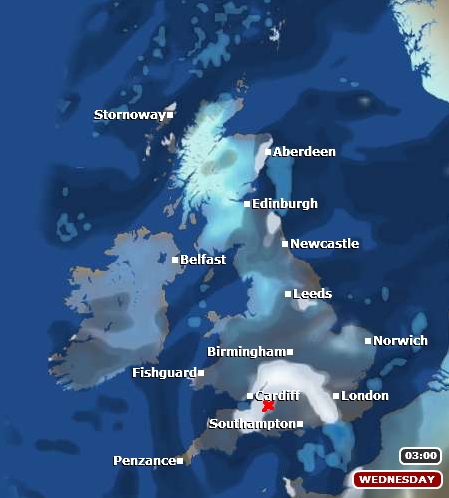 It's actually curling up and around Bath. The previous 6pm blizzard is now showing a forecast for rain.
This is my point. They absolutely, categorically cannot predict the weather. They cannot get it right for three hours in the future. And yet every day they announce what it will be in five days time. It sometimes is, because if you roll a dice you'll sometimes guess which number it will land on. But they cannot predict it.
Bath was due to be the epicentre for dramatic snowfall. Now we are likely to be rained on.
These forecasters are con-artists, and we should be treating what they do with the same contempt as homeopaths and psychics. And no, if it randomly happens to snow tonight, it won't change anything. Whatever weather happens to happen, at least one of their rotating forecasts today will have been wildly wrong. They've predicted absolute polar opposites (or should I say pole-to-equator opposites) in the last six hours, London receiving four complete 180 flip-flops about whether it would receive any snow, and the South West now apparently safe from what we were warned would be the most dangerous snowfall in decades, er, two hours ago. So can we put an end to this idiocy, and treat those who claim to predict the weather with the same disgust and disdain we we do those who claim to predict the future.
And yes. I'm really bloody pissed off it's not snowing.
:Rants, weather