by John Walker on Jan.05, 2010, under The Rest
Right, I've had enough. There is nothing else in the universe that we would tolerate being as wrong as British weather forecasts.
I recognise the problem. It's about predicting the events of a literally chaotic system, taking place on a small island surrounded by seas. That makes it incredibly difficult to accurately predict the movement of warm and cold fronts as they swirl in from various directions. It's so difficult, in fact, that they can't do it. I don't blame the weather forecaster for this. I don't blame anyone for the unpredictability of chaos. (I'm generous like that.) But I DO believe it's time to stop letting these half-blind soothsayers from getting to pretend it works.
In an age when the terrified BBC can't put a programme on air before its producers have filled in multiple compliance forms for fear of being caught lying about something, surely the weather forecast should have to have some massive caption running along the bottom of the screen reading: "WARNING: AT BEST THIS IS A WILD GUESS."
The point is, those lying bastards keep lying to me about snow, and I HATE THEM. And it's not as if they're close. I wouldn't mind if they were close. Have a guess, based on the likely continued movement of the fronts, and estimate that it's going to probably rain. Sure, fair enough. Still, don't say, "There will be 5mm of rain in Brighton," when you're GUESSING THAT IT MIGHT RAIN, but best guesses are acceptable. But when the BBC weather site is so astronomically inaccurate that it gets the weather wrong as it's happening, something is more seriously broken. And worse. Over this Christmas the weather forecast has literally got the weather from the past wrong. THE PAST. And not just a bit off. The opposite of what happened.
My favourite weekend was the one immediately before Christmas, where on the Friday night they forecast snow over all of Bath, all night long, and all the way to lunchtime the next day. They continued to forecast this at least three hours into this promised time of snow, maintaining that it had happened and would continue to happen, on a night where I could see every star in the sky. An phenomenally clear night. Then come Sunday they made it quite clear that it would be quite clear, a cloudless night, ground frost likely. That would be the Sunday night my housemates and I had a snowball fight in the road.
And YES! I KNOW! I'm writing a blog post complaining about weather forecasts. I know what I've become. I know how pathetic this is. But you have to understand how badly I want it to snow. Just once, properly. That other Sunday night, we got maybe half a centimetre that settled. Last year, when the country was buried beneath literally feet of snow, Bath got an inch. Two at most. It was the most snow I've seen in my adult life. I was so tremendously excited. I also had to pretend that the counties to the north, south, east and west hadn't got feet of it. Genuinely, in every direction. I'm cursed. (You kill one gypsy's dog with an axe and it's a lifetime of problems.) I remember a few years ago when I was living in Winsley my parents told me it was snowy and lovely in Guildford. I was heading home that weekend anyway, so looked forward to it. To arrive to green fields, while it snowed significantly in Wiltshire. I got back two days later to see the last of it thawing away, as heavy snow fell on Guildford.
So it comes to tonight. This is the weather forecast for midnight tonight, Bath marked with an X: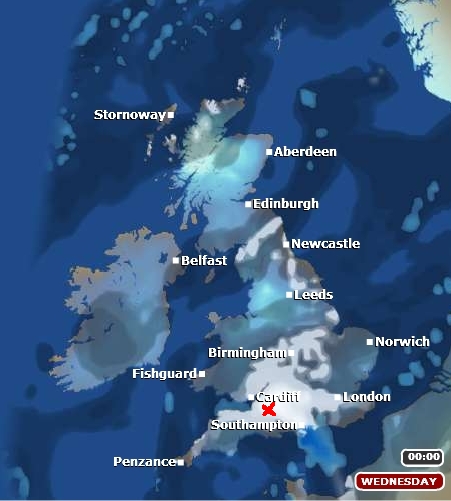 That's the epicentre of the snowfall directly over Bath at midnight. It's meant to begin snowing around 3pm, and finish around 6am tomorrow, with the heaviest falls at midnight. As I look at the blue, blue skies out of the window, I'm dubious. If it doesn't snow tonight – and by "snow" I mean actually properly snow for a sustained time, covering the ground in a thick layer of white loveliness – then I am going to seal the Met Office in a giant rocket and fire it directly into the sun. With a weather forecast warning them that conditions are going to grow consistently colder.
:Rants, weather