by John Walker on Nov.18, 2009, under Rum Doings, The Rest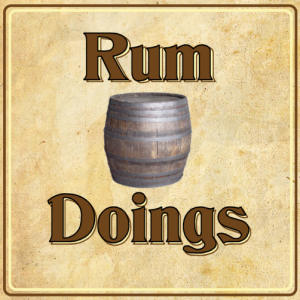 In the triumphant return of Rum Doings, delayed for a while by the birth of Nick's daughter, Judith, we celebrate with the consumption of an Asda Smart Price meal. And indeed the possible consumption to follow.
This feast begins with a bowl of Asda Smart Price chicken curry, washed down with Asda Smart Price Dark Rum, with Asda Smart Price Chocolate Mousse to follow. Not discussed in the episode is John and Edward, whatever that might be, with instead the meandering topics covering Judith's arrival, talking with our mouths full, and then alittlebitofpoliticsladiesandgentlemen. A belated discussion of Nick Griffin's appearance on Question Time leads to thoughts on immigration and why we need more of it.
We offer a shout-out that probably won't be too gratefully received, thoughts on parenting and being honest about ugly babies, considerations on the extraordinary nature of vanishing chocolate puddings, and then important matters of the bottom. John's senility is gleefully highlighted by Nick, and Nick's chicken hate hypocrisy is underlined by John. Then an astonishing discovery about chickens is unveiled. Find out about the time John was allowed to work in a hospital pathology lab, and Nick shares memories of his wife's c-section. Oh, and John's fat.
To subscribe to Rum Doingsclick here, or you can find it in iTunes here. To download it directly, right-click and save as here.
If you'd like to email Rum Doings, point your comments toward podcast@rumdoings.com. Send in poetic greetings to Judith Mailer, and indeed suggested names for John's haemorrhoid. Now you want to listen.
We'd like you to encourage others to listen too. Please retweet, re-email, reFacebook, re-high-street-poster-campaign the link, tell friends. Maybe don't tell them the haemorrhoid part. That can be a surprise for them.
:podcast, rum doings