by John Walker on Oct.22, 2009, under Rum Doings, The Rest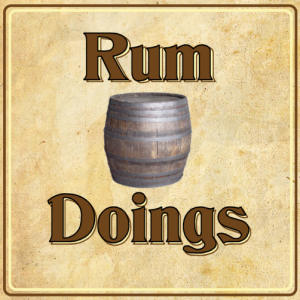 In episode 7 of Rum Doings the topic not under discussion is how we can fix Broken Britain.
More readily discussed are John's inability to sing and Nick's desperate need to hear it, the scandalous gossip regarding John's sexual impropriety with Nick's wife, and the terrifying contents of some Super-8 film. And that's in the first five minutes.
Loyal listeners will be relieved to learn that the episode contains the results of our experiments performed on all 3.5bn women in the world, and the resulting contention for the Noble Prize 100p prize. Then things descend into the usual arguing about hat doffing, the awfulness of the word "used", and moist ladygardens. And the controversy controversy. And very much more, including a frenzied debate over the title "artist".
To subscribe to the podcast click here, or you can find it in iTunes here. To download it directly, right-click and save as here.
Thank you to everyone who's been plugging this for us. Please keep going. Retweeting is a tiny favour, but makes a huge difference for us. Tell your friends, colleagues, and so on. And please actually do this – you won't believe how much help it is just to tell two or three people. If you want to email us at Rum Doings, send emails to podcast@rumdoings.com. We'll respond to your questions in the next episode.
:
rum doings