by botherer on Jan.30, 2009, under The Rest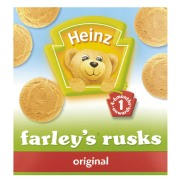 Right, I realise I've barely any readers these days, and I realise last thing on Friday is a stupid time to do this, but I need to know.
Most Brits will remember Farley's Rusks. The biscuits designed for teething babies, aged 4-6 months and older. I'm sure there are equivalents in other parts of the world. Full of calcium and iron, they're brilliant for babies with their crunchy start, and quick dissolve into mush in the mouth. They're clearly designed with babies and toddlers in mind. However, I note on the box that there's no upper age limit.
I'm really quite shocked by the remarkably negative reaction to my buying some the other day from my housemates. All three of them became demented when I offered them one to eat. "BUT THEY'RE FOR BABIES!"
So is milk. And no, not breast milk. Cow milk. At around six months, when you can start giving a baby Rusks, you can give them regular milk. It contains many nutrients babies need! Does that mean it's exclusively for babies? NO! You'd have to be a colossal idiot to make such an argument.
Therefore, please, can Rusk accepting people out there please let others know they're delicious and nutritious. There's a reason it says "for all ages" on the box, people. I hereby begin the campaign for Rusk-eating adults to loudly and proudly declare these enormously flavourful treats as their own!