by John Walker on Dec.28, 2007, under The Rest
The shop down the road from my house is run by a strange man. A man I couldn't help but notice did seem to be rather drunk at odd points in the day over the last year. In a peculiar display of public expression, the sign below the jump has been stuck to the front door for the last couple of weeks.
I don't post this to mock the content of the sign at all, but because it's such a fascinating thing. I do, however, include the sign immediately below purely for the purposes of mockery, not being particular impressed at such a stupid sentiment being in the doorway. Combined, they're just plain odd. (Text below if you can't make it out).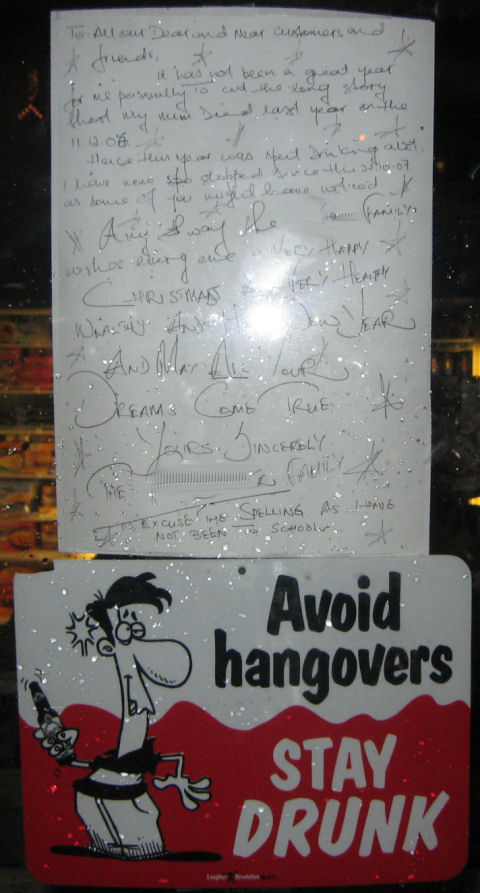 The text reads:
"To All our Dear and Near customers and friends,

It has not been a great year for me personally. to cut the long story short my mum died last year on the 11.12.06.

Hence this year was spent drinking alot. I have now stopped since the 21.10.07 as some of you might have noticed.

Any way the P—– Family wishes everyone a VERY HAPPEY CHRISTMAS AND VERY HEALTHY WEALTHY AND HAPPY NEW YEAR. AND MAY ALL YOUR DREAMS COME TRUE.

YOURS SINCERELY
THE P—– FAMILY

EXCUSE MY SPELLING AS I HAVE NOT BEEN TO SCHOOL"