by John Walker on Aug.02, 2007, under The Rest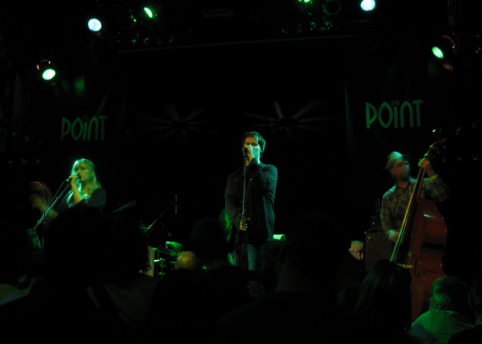 I saw Isobel Campbell and Mark Lanegan in Cardiff last night. I strongly suspect Lanegan might have the best voice in the universe, pipping Nick Cave, Howe Gelb and M Ward at the post.
What he doesn't have is stage presence. I'm not sure that I care all that much. He spoke not a word all night, barely nodding at the audience, and leaving with an embarrassed wave as he turned to walk off stage. He did, however, sing splendidly. Isobel Campbell was slightly more chatty, though no less bored looking, mostly talking to explain that she'd screwed something up, such as her stylophone solo. But this was as nothing to her giving up on a song halfway through after failing to hit half the notes. She has perhaps two years left before she smokes her voice away completely, which will be a sad loss.
Despite this, and perhaps testament to the quality of the songs, and especially Lanegan's growling, bluesy voice, it was still an excellent gig. Almost destroying it completely at the start was the realisation that the strings were on tape, which seemed to cause everyone else on stage to play in a tired, mundane fashion. Once Campbell was on her cello, and the steel guitar was in force, things much improved, everyone seeming to wake up considerably.
By far the best thing was the strength of the new material. They're recording a new album together, and the songs last night were a step forward from last year's already excellent album. The new stuff has lost the last remnants of the Belle & Sebastian influences, and replaced them with a much deeper, instrumental maturity. Out with the fey, in with the growl.