by John Walker on Apr.16, 2007, under Television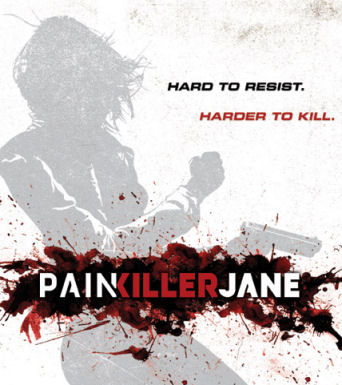 I think people are going to somewhat miss the point of Painkiller Jane. There's a simple trick to understanding it: Read the title.
Read it again.
One more time.
Ok, so now perhaps we can forget our worries about its not being Dostoyevsky and enjoy a bunch of nonsense that is enjoying being such? Episode 1 of anything science fiction always has a hard time – introduce the cast, then the special nature of that cast, then have them face a typical scenario, and then introduce a twist. It's a lot to do in 43 minutes. And so while PJ has some awful moments of awkward exposition, and while it has a couple of, "Oh no, please don't say… Oh! You said it!" scenes, it does a fine job of being daft scifi about super-elite cops fighting against the Neuros – genetically enhanced humans with paranormal abilities.
Most impressive is the use of colour. I'm sure ten thousand TV blogs are currently writing, "…looks like a music video…" and tsking loudly, as if this is inherently a bad thing. It's the laziest of dismissals for any form of innovative filming, and, you know what? Sometimes music videos look really fantastic, and it can be a good thing to look like one. PJ's use of colour is really very impressive, with the shades washing away subtly throughout scenes, sometimes leaving things entirely in black and white, other times letting colour bleed back in at dramatic moments. It's a really nice technique, and makes a pleasant enough show keep your attention throughout. Plus it stars the T-X terminator.