by John Walker on Apr.16, 2007, under Television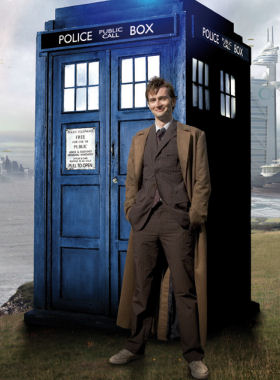 Please, someone, take charge.
Despite a decent opener, and a surprisingly unhateful performance from Mr Who's new assistant, Martha, it's more clear than ever before that a reasonably entertaining family sci-fi could be something really special. If only someone other than Russell T Davis were in charge. I've no objection to his working in the background, and I'm pleased that he's made a nice idea viable once more, but he is a very bad science fiction writer, and someone needs to be involved who can say so.
For two partially enjoyable series, he's screwed up the arc appallingly twice. Series 1 teased us with "Bad Wolf" references scattered through the universe, suggesting that something magnificent was coming. It wasn't, and the final result of a grumpy TARDIS (American readers, sorry) seemed like it had been cobbled together at the last minute, rather than some clever meta-theme reaching its zenith. Series 2 was even more dismal, despite having a really wonderful final moment. As much as everyone enjoyed watching the Daleks and Cybermen hitting each other with their handbags, it was a really dreadful load of crap, only fondly remembered thanks to the remarkably emotional and effective scenes seeing Rose and the Doctor separated irreparably.
Series 3 is shot from the opening moment, unless he's doing something cleverer than he's ever demonstrated the capability for. Dropping hints that he'd feature The Master soon, and then throwing around references to "Vote Saxon" and people discussing that a new leader is on the way, isn't exactly subtle. If it's intended as a big reveal, then perhaps it shouldn't be available as an episode summary on any listings site. If he's a better plan in mind, deliberately playing off people's expectations, then I'll be delighted to be wrong, and remarkably surprised.
Meanwhile, episode 1 did a surprisingly decent job of introducing Martha, without it turning into Eastenders again. And thank God she doesn't have a moronic boyfriend to drag every other episode into the lowest depths of chav TV. Transporting a hospital to the moon was a satisfyingly idiotic idea, and RTD inevitably couldn't write an ending and it all became nonsensical farce, but for a while there it was onto something.
Episode 2's trip to see Shakespeare was about as loathsome as the programme could imaginably get. Even RTD couldn't come up with a script so abysmal, instead having to turn to a writer for, er, Brookside. Gareth Roberts has clearly never seen anything of Shakespeare beyond Shakespeare In Love, as he proved by embarrassingly misunderstanding anything that made Shakespeare of interest, instead believing the power of the plays to be in his flowerly language. Endless references to the Bard's being "the greatest genius of all time" were tiresome drivel, and worst of all, spouted by the character with an understanding of science, and perhaps therefore a decent grasp of slightly more productive geniuses out there. And no, this isn't some Shakespeare snobbery – I'm barely more literate on the subject that Roberts' primary school grasp, but that's one of the primary reasons why I wouldn't write a television programme about him. And then comparing the works of Shakespeare to that of talentless hack JK Rowling was the last straw, leaving me screaming enraged at my monitor. (Goddammit, even if you're one of these cheese-faced buffoons who think Harry Potter is "lots of fun", you surely wouldn't be so repulsive as to compare her sub-literate prose with that of Shakespeare?) Seeing that the Doctor was to meet the Bard, I sighed predicting that we'd have to sit through the ordeal of the Doctor saying Shakespearean quotes to Shakespeare, who would reply, "That's good – I could use that." I never, even in this pessimistic funk, thought that they'd do it FIVE BLOODY TIMES. Burn everyone involved.
Episode 3 was back to RTD's usual fare: having a good idea, but then not knowing what to do with it. So he wanted to satirise the traffic jam nature of modernity, and create a literal traffic jam with no destination, and all involved oblivious to their reality. But then he decided to fill it with wacky characters, and spend over half the episode watching people aimlessly chat inside hovering car sets worse than something Red Dwarf would have hammered together. It took a Doctor Who stalwart – a mysterious giant monster hidden at the bottom – and then completely removed any notion of terror by hiding it for far too long, and then revealing them with no ceremony. The man has no idea how to write monsters, and it would be nice if he stopped trying. This is the guy who had a Dalek explode over pondering the emotion of love. Gah. Nice to hear what the Face of Bo had to say, but sadly it only seems to point further in the direction of a Saxon anticlimax.
The future looks mixed. Next is a two-parter written by one of the script editors, which bearing in mind the results of her work so far, doesn't bode well. Then it's someone who wrote for The Bill. Then, dear God, a producer and writer from Torchwood. Then, after those weeks of worry, Paul Cornell (who wrote the wonderfully moving series 1 episode, Father's Day) is back with a two-parter. And then, immediately it's Stephen Moffat's episode, Blink. So far he's written the three best episodes – The Empty Child and The Doctor Dances from series 1, and best of all, series 2's The Girl In The Fireplace. Then it finishes with three in a row from RTD. Sigh. Please, get him off the scripts, someone. Get Moffat in charge! Is anyone producing this programme? Anyone?