by John Walker on Feb.01, 2007, under The Rest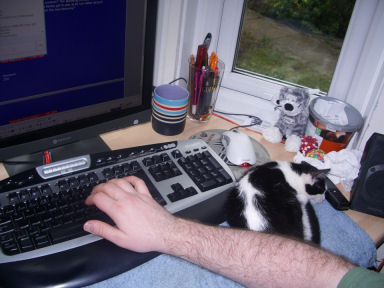 And a quick trip to the vet this morning resulted in Dexter's ear mites getting treated, the first necessary jab, and drops for his gummy eye. Otherwise the vet was really impressed with him, and how healthy he was.
Thankfully he's sleeping now exactly where you see him above, as this morning saw the discovery of the mouse cursor, and a brutal attack on my monitor, followed by somehow firing off about thirty applications at once, and then creating this really rather impressive graph with Excel.
If that mobile phone rings, I think he'll hit the ceiling.