by John Walker on Aug.04, 2006, under The Rest
Tim told Kieron, and Kieron told me.
The internet's latest, and certainly greatest meme: Miming to Bonnie Tyler's Total Eclipse of the Heart.
There's little question that this is what the internet was made for. And this one is definitely the best. And everyone's in love with the girl.
I do want to make special mention of the scene in Bandits, where Cate Blanchett's character does the very same thing in her kitchen, which doesn't seem to be getting the credit it deserves for starting all this.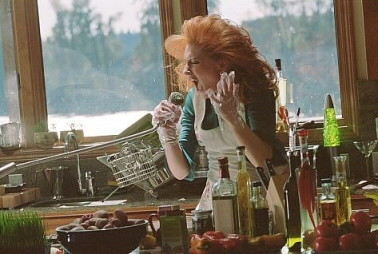 But then there's this one:
Give it time – get past the boring bag-on-head scenes, and suddenly it's WRIST SLASHING FALLING DOWN STAIRS excellence.
There's a billion of these, and as Kieron points out, the brilliant bit is that it justifies listening to Steinman's ridiculous rock opera over and over again.
And that eventually leads to this:
I don't know who Hurra Torpedo are, but I do know this: ALL songs should be performed by smashing ovens with table legs.