by John Walker on Jul.15, 2006, under Rants
Dear the Ibis Hotel, Heathrow,
Burn yourself down.
I was recently unfortunate enough to stay for a night at your "hotel" without even having committed a crime. Despite the immediately pleasant appearance of your foyer, this illusion was immediately shattered by the inability of the person stationed at the check-in desk to speak English. Please don't mistake me for one of those repulsive individuals who demands that everyone be fluent in English everywhere I go, but I think I can test my liberal nature to the point of wanting someone whose job it is to speak to people who walk into the hotel to be able to speak to people who walk into the hotel. After eventually finding someone with whom to exchange rudimentary grunts, I was told that my booking reference was no use to the hotel for finding my booking, and instead had to make phonecalls to people to find entirely extraneous information regarding the booking before my existence would be accepted. (Later, when colleagues arrived, I gave them the secret information for receiving their rooms, only for them to have the booking reference read back to them).
Entering my room, and indeed almost exiting it again in the same step, I was overwhelmed by how the £70/night was being spent. Not only did the room stretch wide enough to accomodate the single bed, but it also had a table! Perched atop the cupboard in the corner was a colour television! There was a bathroom! Really, it was very exciting. Which made it slightly more disappointing to learn that the bed's mattress was apparently made of wood, the television worked only when physically assaulted (the remote did not work at all), and the bathroom contained no ventilation, no shower curtain, and no seal or division between the bedroom such that the bedroom's carpet had been merrily absorbing water escaping from the one foot high bath beneath the curtainless shower for many years. And the sink smelt of sewerage. Not a bit stinky, but of sewerage. And the shower gel dispensor on the wall was empty.
I bravely reapproached your front desk (once again getting into the lift that so terrifyingly stopped between floors before violently shuddering and clunking into place) to ask if my television remote could get new batteries, and if the shower gel could be replaced so I could have a shower. I was met once more by the young man whose linguistic skills lay abroad. He was determined, however, and despite not understanding anything I was saying, stuck firm to nodding and looking around in panic. Realising that my only chance of receiving a response was to ask a series of ever-more complicated questions until he was forced to fetch someone else, I executed this beautifully. Speaking to a new person, I was told to go to my room and wait. The conversation went like this (and I promise this is true):
Me: Do I really need to be in my room for this to be done?
Him: Someone will be up with you shortly.
Me: Do I really need to be in my room for someone to replace the shower gel?
Him: Someone will be right up, sir.
Me: I'm asking, do I need to be in the room?
Him: Are you going somewhere?
Me: I was just going to have a drink in the bar. [I point behind me to the bar]
Him: Come and find me when you get back and I'll send someone up with you.
Me: I'm only asking you to replace the shower gel in my room. Can you do that while I'm in the bar?
Him: When you get back, come and find me and I'll get someone to help you.
Me: Right. Let's do it now. I want to get it done now.
Him: Huh?
Me: It's obviously too complicated. Let's do this now.
Him: Ok sir, come and find me when you get back.
Me: I'm sorry, where am I GOING?
Him: You said you were going out. [He points toward the entrance]
Me: No. No I didn't. I said I was going to get a drink at the bar. But now I want to do this right now.
Him: You're not going out?
Me: No. Never have been. Can we do this now?
Him: Wait there, I'll get what you need.
[I wait for five minutes. He reappears carrying a remote control and a box containing the device that goes in the gel dispensor]
Him: Do you know how to fit this?
[I was reasonably surprised by this. I don't really enjoy the weird servant-like nature of maids in hotels. It makes me feel creepy. But I also sort of think that hotels might not expect the guests to do their own maid service when they're paying £70/night. I should also say, I wasn't being a prick here. I'd actually thought to try and figure out how to fix the shower gel dispensor for myself earlier, and discovered that I could find no way to open it, even after pulling various parts off]
Me: No. I don't know how to fit it.
Him: Oh. Well, I'll come up then.
[He stands still]
[I wait]
[He stands still some more]
Me: So I guess I'll just do it then.
[He hands me the gel box and the remote]
Him: Have a good evening, sir.
So I take the box upstairs with me, and after another failed attempt to get into the device on the wall, I pathetically operate the gel sachet outside of its protective coating, much like trying to milk a jellyfish. The new remote doesn't work either.
It was a hot night, and the room, pleasingly, had an air conditioning unit. I switched it on to cool the room, and it began some sort of improvised drumming, banging and clicking, switching itself off and on, faster and slower, all the while thumping and rattling. Leaving it to sing to itself, and hopefully cool the room down, I went to the bar. Returning, the noises it made were still impossibily silly, and so I switched it off in order to attempt sleep. However, it was remarkably hot, and the only window in the room was the double paned box on the wall. I was pleased that someone had at least removed the iron bars that would have obscured access in most other prisons, but there was still an unremovable tie that prevented the internal window from opening more than four inches. The window beyond, another six inches into the wall, was able to open inward as far as the first window would allow, but both were designed to swing shut if left unattended. Fortunately, my improvisionational skills as second to none, and I was able to fashion a device to keep them both open using only the two plastic teaspoons found upon my room's table.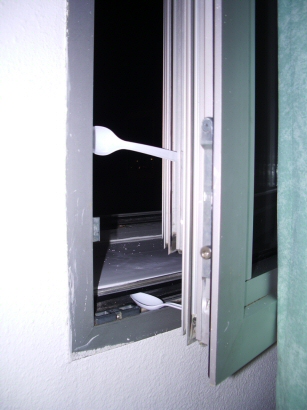 Of course the reason for the window's being double-thick was to dull the noise of the airport outside, and it is only reasonable that having them open would allow this disturbance in. It's perhaps less reasonable that this noise should be more soothing and certainly less loud than the air conditioning unit. After almost two hours' sleep it was time to get up, and get the hell out.
I promise you I have stayed in more luxurious and comfortable youth hostels. Your hotel is abysmal. As a colleague pointed out, when idiotic tabloid newspapers scream, "PRISONS ARE LIKE A HOTEL", if they are anything like yours then Amnesty International have far more work on their hands than I had ever realised.
Yours sincerely,
John Walker