by John Walker on Jun.05, 2006, under The Rest
As you'll have been unable to miss, there's been a big pink button on the right of this blog (or somewhere scattered at random below your keyboard if you're still so deeply and twistedly stupid as to still use Internet Explorer) for the last few months, promoting Kim's fundraising for the Avon Walk for Breast Cancer.
And if you follow the link now (and add on another $700 that's come in), you'll see that the amazing $10,000 has been reached!
Kim did the walk yesterday, and is now complaining loudly to any who come near about the aches and pains in her legs.
You can see them for yourself: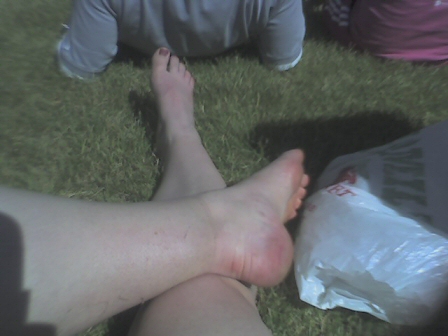 So huge-o-congratulations to Kim for not only walking too far for a single day, but also managing to raise such a flipping huge pile of money. Kim – you are a star.
And also giant-o-thanks to everyone reading here who donated money toward the fundraiser of someone you probably don't even know. It was incredible of you.
If you weren't incredible, but would still like to be, obviously the more the better, so get the donations in quick. And remember folks, every penny goes toward helping boobs. What better way to use it?