by John Walker on Aug.29, 2005, under Photos, Rants
I'd like to make a complaint.
Some complaints. The first being about the Sun. While I recognise that the heat it sends our way is somewhat necessary, and while I do appreciate that the light it offers lets me see stuff, I would still like to object to the way it has rendered my face unable to pull expressions of horrible agony I feel without cracking in half and falling off. I'm used to deliberately hiding from sunshine, aware of its despicable evils, and instinctively covering myself in Factor Building suncream as soon as an Angel-like dash through its beams is unavoidable. Too used to it. So when it snuck up on me, I had quite forgotten how quickly it acts. Helping at Jo's 180 skate park at Greenbelt, I was sat still on a chair, watching a kid try the same trick (a 180 off a low block) for an hour. It was a fantastic thing to see – someone keep trying the same trick, over and over, getting closer to landing it as he went along, ignoring it when he slipped back, and then finally landing it, and realising that I'd seen and there was someone to share the moment with. Gnarly. All the while, ultra-violet light was secretly setting my face on fire. This morning, returned home a day early to get ready for going to Poland tomorrow, I am sat with a rigid blank expression when my face really wants to be contorted into poses of anguished screams. The only after-sun in the flat seems to make more boasts of its ability to help maintain my tan than stop the raging burning pain. I can't go outside to find a pharmacist open on the Bank Man's Holiday, because I would scare the children.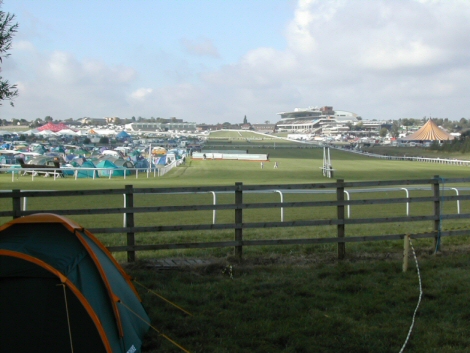 I would also like to complain about the wind. While the peoples of New Orleans are making such a big fuss about it getting a bit blowy, no one's taking any notice of my victimhoood of the dangerous moving air. Again, on the 180 skate park (I keep linking in the hope that people with large amounts of money and decent hearts will read about it and donate enormous sums to the extraordinary project), wearing my staff badge about my neck, the wind whipped up the laminated slither of deadly plastic and jabbed its sharp corner hard into my open right eye. It only stopped weeping twelve hours later.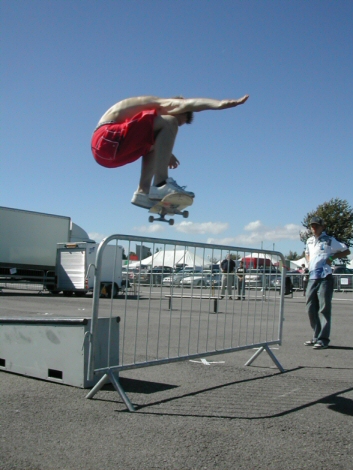 And finally, I would like to complain about the 'Mexican' food I ate on Saturday, that decided to leave my body with such ferocity that my entire being prolapsed through my bottom. Thank the good lord that Greenbelt happens to have one block of actual real-life toilets, as well as the ten trillion chemical pots scattered about the fields. I did, I confess, have to use the "disabled only" toilet. I really had no choice – it was "disabled only" or "on the floor in front of everyone". I feel I made the right decision. Until upon leaving I saw a young kid in an enormously complicated electronic wheelchair waiting outside the building. Actually, no – unless his evacuation was as urgent as mine, I think it's only polite to give up your exclusive cubicle for someone in so much need. Poo. Poo poo poo, lots more mentioning of poo.