by botherer on Aug.12, 2005, under The Rest
I can't remember what the context was now, but a long while back in Gamer I made a call for someone to invent the 'second-person perspective' game. Obviously I was being flippant, but now someone has created it: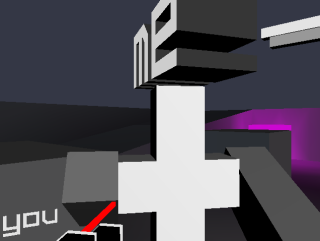 Select Parks' Julian Oliver has created something which doesn't appear to have a given name. Apparently he's been struggling with the notion for years himself, although unlike me, he took it beyond a stupid joke, and unlike me, is enormously skilled in all sorts of ways, and has made a demo of his idea.
"The first person perspective has always been priveledged with the pointillism (or synchronicity) of a physiology that travels with the will in some shape or form, "I act from where I perceive" and "I am on the inside looking out". In this little experiment however, you are on the outside looking in, and to my great amusement, it's a complete and total pain in the arse."
Apparently the aim is to shoot yourself in order to survive, which sounds… um… like shooting the enemy to survive, surely? I don't know – I'm just so proud that others take stupid ideas to such beautiful lengths.