by botherer on Jul.24, 2005, under Rants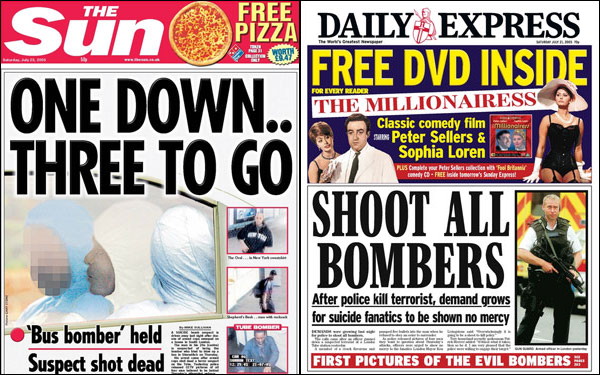 Scotland Yard has admitted that a man shot dead by police hunting the bombers behind Thursday's London attacks was unconnected to the incidents.
Botherer Blog correspondents Gordon Nocareera and James Hardly look at the implications.
Q: Will this have an effect on attempts to foster good community relations?
It has been speculated in some places that the police's shooting at innocent people can do some damage to positive community relations. Some people have expressed concern about the decision to shoot at the vaguely Asian looking man, with Muslim leaders implying that a "shoot-to-kill-foreigners" policy can have detrimental effects on public relations. Of course, this doesn't take into account the effect a killing has on the size of a community, reducing the real-term numbers of individuals with which poor relations can be had.
Q: What impact will it have on the way the police investigate into the bombings?
Of course, primarily it makes the hunt for the bombers easier, as there is now one less person to choose from. The situation is now more tense than in previous years, with the recent suicide bombings calling for a review of the more traditional "Ask questions, have a trial, shoot later" policy.
Q: Are we sure police officers were responsible for the shooting, and what is their policy in such cases?
While the police did chase the unarmed innocent man onto the tube train, cornering him and piling onto him to ensure he was incapacitated, it's not clear which one it was that did the shooting. For a number of years the police have been looking at which tactics can be used in the eventuality of suicide bombers operating in the UK, and it is a very difficult thing to cope with, but sitting on people before emptying a gun into their head has so far proven to prevent any repeat offenses, guilty or innocent.
Q: Does the shooting represent a setback for Prime Minister Tony Blair?
Tony Blair is content to let the police cover the story up without his help, allowing them to investigate themselves in the traditional manner. Mr Blair has asked that the public remain scared, and added that if any members of the public see any policemen acting suspiciously, to alert the nearest someone else.