by John Walker on May.11, 2005, under The Rest
It appears that thanks to Stu's two links in the last 24 hours, I am the recipient of many of his readers, chums, pals and viewers. Hopefully the level of scorn in the following shall have you feel right at home. But if anyone calls me their 'correspondent', I will chop them up.
I really don't like Derren Brown.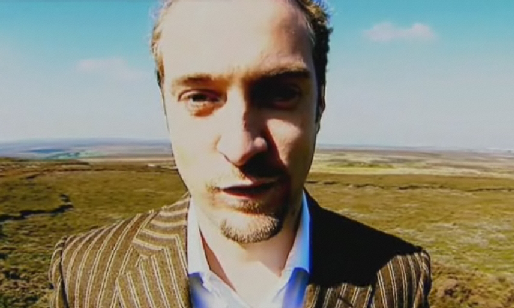 Derren Brown lying, yesterday.
And as is always the case when someone finds the passion to dislike something a great deal, it's because I so want to really like him, and am violently unable.
When he began appearing on TV, I was excited. I love magic, and I love watching it performed well. I can do the odd trick, and I have a fair idea how a few effects are achieved. I find pleasure in either seeing what I know done well, or being mystified by what I don't. There were similar beginnings with David Blaine – that first Street Magic special showed great promise for the first half. I don't think I've ever seen anything unravel as quickly as it did in the second, however. The much-touted levitation was clearly pathetic wire work, with fake reactions cut in. He used the Balducci effect to get some shock/amazement from people on the street, then used those responses with his ludicrous two foot levitation. And the moment you sink so low, you devalue everything you do. Who cares if he guessed the person's card? He uses camera tricks and editing. As soon as one section is faked, the rest must be assumed to be fake as well. That and the credit to LYING CHEATING MAGICIAN Uri Geller were enough to see him written off as the useless wanker he's demonstrated himself to be since. (Ooh, you sat inside some ice! You mean like… the Innuit race did for generations? Moron).
Where confusion tends to arise is in the condemnation of deceit within magic. "But surely all magic is deceit", you observe, sitting back smugly. Unfortunately you're an idiot and haven't thought it through. Magic is about a contract. You lay down some rules at the start, make some important promises, and then you deceive within the limitations you've left yourself. So if I do a card trick where I 'guess' the card you're thinking of, clearly I'm not really guessing – were that the case I should be taken to laboratories and experimented upon. However, if I've told you at the beginning that I've not got any stooges behind you telling me the card, and then have a stooge behind you telling me the card, I've just lied to you, and achieved nothing. If I cleverly cause you to pick a certain card (A CARD FORCE – one for the precious magicians out there), or ingeniously learn your card through whatever means, I have tricked you. Not lied to you. Yes, it's a bit ambiguous. I might say I'm reading your mind, or that you are drawn to a particular card by my actions, or whatever. But you know that's bullshit – that's all impossible, and you know it. The difference is between lying about what's possible, and lying about what's impossible.
Brown started off reasonably well. His first series was a new approach – one that Blaine's special had created room for in the schedules. A man, wandering the streets, achieving extraordinary effects. But this time, instead of guessing the card they'd picked, he was causing people to forget information, make choices they seemingly had no control over, and influence people's minds. Mind Control. Except, of course, none of it was. It was just the same old tricks wrapped up in some really nice new patter… for the most part. So when he has the advertising executives design the exact advert for a taxidermist that he had in the sealed envelope, and then showed us the super-subliminal journey the pair had been on to get to the location, we think two things: 1) Wow, he controlled their minds with similar effects used in advertising, how clever; 2) He showed us how he did it – we know the truth. Of course, both are complete bollocks. There's no reason to believe that he achieved the result in any way different than the manner in which sealed envelope tricks are usually achieved. How many times have wee seen a perfectly accurate prediction located in an envelope and not thought, "Gosh, they must have seen an awful lot of Seven of Hearts on their journey to the studio that day." But hey, it's fun to believe in the impossible, and so we allow ourselves that thrill. Whatever. The problem arises when it comes to the effects that rely on lying. Take, for instance, people on the tube forgetting their destination. He babbles on about how things on the tip of your tongue can be lost, and he's figured out how to achieve this. Rubbish. Clearly he has no such power, or again, laboratories. (This should be the constant mantra when assessing tricks – if it really happened, should he be in universities being studied as a superhuman?). So what is he doing? There's no card force, no sleight of hand – there's no real option either than to believe him when he says he has powers of Neuro Linguistic Programming (which slightly unhelpfully doesn't exist), or that he's lying and cheating. Troubling.
Then came his specials. Oh dear. Suddenly he seemed to be going the way of Blaine. Beautifully subtle sleights and cunning ideas replaced with big, stupid lies. Just as Blaine did not sit in that box for 40 days ("We have to put the crane up to the box and the curtain around it for… um, and important reason. Now go away."), Brown did not risk shooting himself with a revolver. Yes, the build up was fun, with all those tricks with the group in some nonsensical pantomime of selecting a volunteer, and certainly the atmopshere of the trick was remarkable – breath held as he pulled the trigger. But he blew it twice. The first time was the 'incorrect' empty barrel into the straw bails. You can be sure that if something goes 'a bit wrong' in such a trick, but not enough wrong to spoil the result, then the whole thing is a fake. A hint of weakness is supposed to make the whole thing more believeable – this can go wrong! It must be real! But it's so painfully orchestrated that it just reveals the script. The second thing was NO ONE IS GOING TO RISK SHOOTING THEMSELF IN THE HEAD ON TELEVISION. He deserves credit for having created such an atmosphere for what was, ultimately, the stupidest hour of television since the last Eastenders extended special. And of course it was subsequently revealed as a hoax from start to finish. Fine, again, whatever. But why bother?
This new series, A Trick of the Mind, at first filled me with joy. I'd pretty much written him off on the basis of his continued claims of NLP and mind control in interviews – something else that steps widely over the line between Trick and Lie. Ask someone even as wretched as Paul Daniels whether he has superhuman abilities or is good at magic tricks, and he won't hesitate before telling you the truth. He won't say how he does it, but he won't lie about psycho-babble rubbish. Ask LYING CHEATING MAGICIAN Uri Geller how he achieves his effects, and he will LIE about being a psychic, and ask you to buy one of his magic tents. So, when Derren Brown is asked how he achieves his effects, and he lies about NLP, into which category should he be put? Exactly.
But wait! Suddenly something new has happened.
At the beginning of this new series, Brown annouces, "This programme fuses magic, suggestion, psychology, misdirection and showmanship. I achieve the results you'll see through a varied mixture of those techniques. At no point are actors or stooges used in this show."
Magic! At last, the truth. Yes, psychology is certainly used. When doing a basic trick like the rings in the boxes (three gimmicked boxes, three rings, when the punters open the box it's empty, when opened correctly, a ring is revealed) it's important for the participant to feel as though they are being manipulated so they don't think too hard about other possibilities. That's the misdirection bit. Excellent stuff, and I relaxed and enjoyed. Effects like the staring contest, where people are suddenly and wretchedly afraid to look at him, or people's willingly handing over their wallets and keys in the street still trouble me greatly. University laboratories. But there were many really nice tricks happening, and a new-found humility in the presentation. Gone were the ridiculous attempts to appear as Mr Serious Face, all intense and brooding. Instead he was aimiable and silly, recognising his own ridiculousness. I became even more relaxed. Sure, he was deceiving me left, right and centre, but at least he wasn't lying about it so much.
And then Friday's episode. The entire second half taken up with the most stupid, cruel and pointless trick imaginable. Derren develops a computer game that can cause people to fall asleep when they play. Right. Not a great start – an obviously impossible feat on which to base the whole thing. Then once his hapless victim miraculously fell into a coma induced by Brown's instructions to "have another two flashes now," Brown kidnaps him in front of his gormless friends, takes him to an empty building, puts a pretend gun in his hands and has him wake up to find himself attacked by zombies. The man is a bit muddled, and then scared, and then shoots at them, screaming and swearing, rather than the slightly more obvious response expected of someone finding themself surrounded by people in zombie costumes – saying, "Hello, stop being silly." Then when it all looks too much, Brown rushes in, gives him a coma-inducing cuddle, and then takes him back to the pub, props him up in front of the arcade machine again (this is one of those comas where you can stand up sometimes), and he wakes up (by the magical power of klaxon) and believes it to have all been an intense gaming experience.
Oh, for the love of God.
It's hard to imagine a more stupid conceit, or how he could have fit in any more flaws into the entire affair.
1) Occasional flashing lights do no induce comas (Yes, high frequency flashing can cause epileptic fits, amongst the epileptic – that has nothing to do with this).
2) People do not fall asleep standing up.
3) If those people were his friends, might they have reacted in the slightest way to
a) His falling asleep
b) Derren Brown appearing in a room with a camera crew
c) Their friend being kidnapped
d) The astonishing cruelty of the trick
4) Klaxons do not remove mystical comas
5) Being given a hug is unlikely to have the same magical effect as the magical computer game
6) People wouldn't shoot at pretend zombies – they'd wait to see if they were real, as stupid as that might be
And so on.
So that means Brown leaves two options:
a) He defies all known science
b) He is using actors and stooges despite having said he would not
Hmmmm, which could it be?
Which means everything on the programme is now a lie. There's no reason to ever believe he isn't using actors. Every impressive effect? Actors. Every celebrity endorsement of a trick? A lie. Why believe otherwise, as he's clearly shown that the statements at the beginning, the laid down rules, are lies. When he somehow knows the word being thought of, it's because he arranged it with that guy earlier. You want to believe otherwise? Why? He's already shown that he has no problems with using actors. Why go to all the effort of achieving a great effect when you can lie to the camera, and have a mate say the word you asked him to. The lazy, stupid conman.
There's a fine line to walk for magicians. Brown has decided to spend his time on the wrong side of it, and has some rather unpleasant company.
.
Edit: Oh gosh now, this is embarrassing. I appear to have made a terrible mistake above. It turns out that Uri Geller is not a LYING CHEATING MAGICIAN, but in fact a real, proper psychic. Why this sudden change in conviction? I'll tell you. It was from reading the validating and absolute proof by Dr. Edgar Mitchell for the 267th time:
"Uri Geller has ability to perform amazing feats of mental wizardry is known the world over…Uri Geller is not a magician. Uri Geller is using capabilities that we all have and can develop with exercise and practice."
– Dr. Edgar Mitchell,
Apollo 14 Astronaut and sixth man to walk on the moon
I don't know about you, but I'm not about to doubt the words of the sixth man to walk on the moon. So to apologise to genuine real psychic and not LYING CHEATING MAGICIAN Uri Geller, I would like to help him advertise his latest miraculous gift to the world: The Uribike.