by botherer on Oct.21, 2004, under The Rest
Saturday – Part 2
Defeating terrorism and staring at some sealions can work up quite a hunger, so it was with with a sense of brave adventuring that we decided to forage for food. Food can often be very difficult to find in America, sometimes requiring that one walks for as far as a metre before any can become available.
We decided the most sensible place to search for sustenance would be what the locals describe as a "mall". These are small, rural market places, offering the wares made by locals. There is a picture of the one we visited below.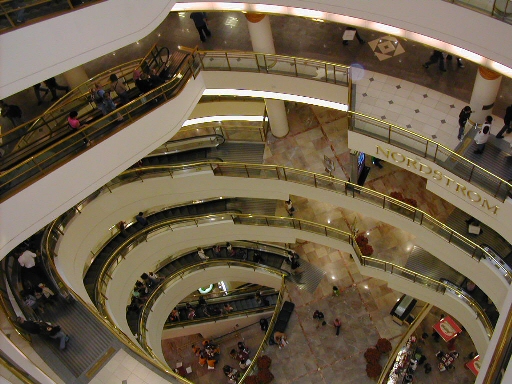 Here we found a stall that served what we learned was a local delicacy: 400lb lumps of meat set between two loaves of bread. It was a delightful experience, and we left, carrying our bellies in the complimentary wheel barrows pushed in front of us.
I want to try and express why Saturday was such fun, and I think it's best captured by explaining that before leaving this ridiculously monolothic behemoth of Capitalism, we made sure we went to the very top so we could look down the middle. Along the way there was celebration and expressed fear at the very existence of bendy escalators, and analysis of the tummy-feelings experienced when leaning over the barrier at the top. This is the difference. People who sit in bars all day would have entered to find their store, purchase, and leave. The Right Sort of People go to the very top to have a look down the middle.
I forgot to point out something we encountered during the morning, and as tempting as it is to pretend we saw it after lunch, I cannot lie. However, its inherent humour is stronger than any mortal sense of chronology.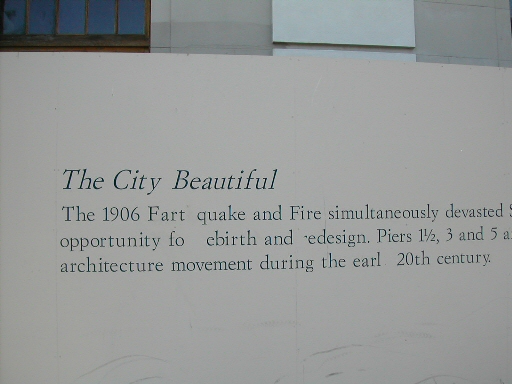 There was a tram ride at some point, happening in and around one of these journeys, which resulted in some very tedious shopping for jeans, woven by the tiny hands of barely-paid neo-slaves in developing nations. A pair bought by both Will and Dan. They hate children. Especially foreign ones.
Our next mission was to discover the street we'd been tipped to visit: Haight. With Dan at the map, our meandering route took us through some fantastic stumbled-upon moments. It was as if we were walking from scene to scene in a film, with new sets and interesting characters waiting on their queue at our arrival. Some highlights:
Noticing a sleeping-bag using queue outside a theatre promising a Hanson gig: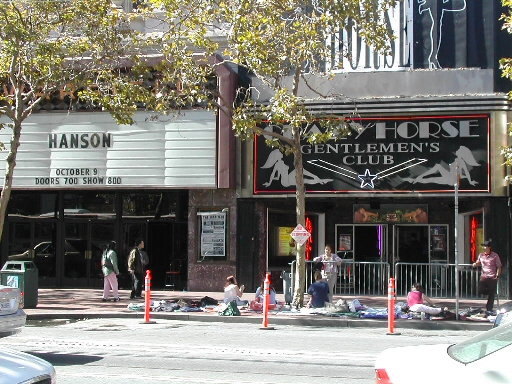 With all the ensueing renditions of "Mmm-bop" in mock post-puberty bass voices that one would expect for such a sight.
An incredible building, astonishingly being used for a San Francisco games show. We stood outside, sneering at it from afar, secretly wishing that someone attending would see us, and being a big enough geek to attend a games show, recognise our faces from the UK magazines they get in Borders.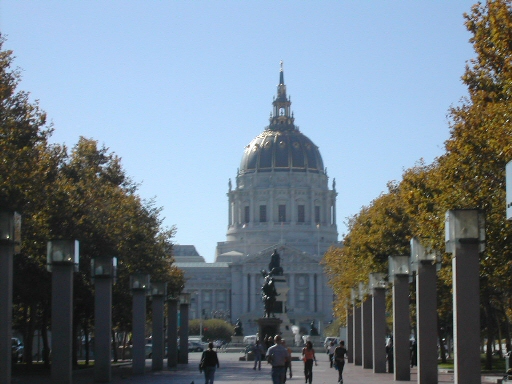 But most remarkable of all was a Harley Davidson gathering down a sidestreet. They had hurtled past us at tremendous speeds and offensive volumes, and we accidentily followed them to their destination. It was the live band that drew us – a collection of men who looked in their forties or fifties, playing some bluesy rock with a competence far too great for the meagre audience in front of them. Which weirdly included a tall man wearing a long, blonde wig, and a young woman dressed as an old lady, dancing in front of them. However, by this point in the day, it didn't really seem all that weird. Just another part of the San Francisco scenery.
There are more pictures of the bikes (and the rest of the trip) here, but this one is too good to not celebrate.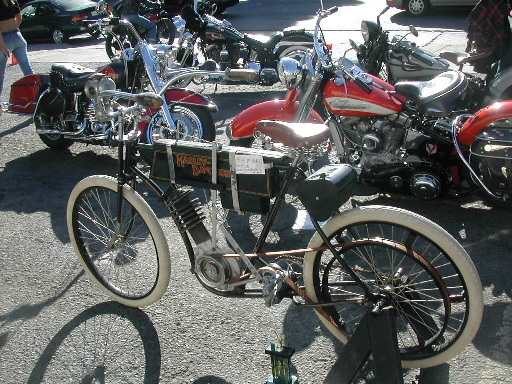 It's too small to see on that reduced picture, but this is from 1903. It didn't appear to possess quite the raw power that others around it demonstrated. I have no interest in Harley Davidson bikes whatsoever. But to see so many of them, all in one place, they looked pretty cool.
I won't bore you with the details of our shopping spree through Haight, but they included finding the best t-shirt ever, arguing with the guy behind the counter in an anarchist bookshop, and walking out of a clothing store because it sold a sweatshirt bearing the American flag along with the slogan, "Try burning this one, asshole." I got so far as getting my lighter out of my pocket.
We then went to the Greatest Record Store Ever, called Ameoba Records. Go there. Fly there now. Quite remarkable.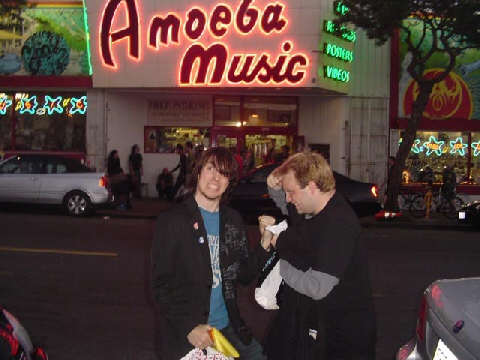 And made all the more extraordinary by being the shop we were about to go in when Will bumped into an old friend. Which was made all the more extraordinary by my having said a couple of hours previously, "The only thing left to do now is bump into someone we know."