by botherer on Sep.04, 2004, under The Rest
I went to a charity shop today – Cancer Research to be unnecessarily precise.
I wish Harry Hill hadn't said this first, but he did, so it's in quotes.
"It's no wonder they haven't found a cure for cancer yet. It's just old ladies selling second hand clothes."
The reason for such a trip was to purchse some Tat, in preparation for a trip to Uncivilised London tomorrow. There is to be a meeting of a mailing list I've been on for eight years now. Every now and then, people gather together to see what each other look like, and to be surprised that we don't spend the entire day arguing and calling each other names, but instead talk in a rowdy and happy fashion.
As far as I can tell, traditions are things that have been done twice. And so tomorrow should mark the beginning of a new tradition, as for the second year in a row all attendees are required to bring the absolute worst piece of charity shop tat they can find.
Last time, competition was tough. My "Tat Box" was not a strong contender at all, dwarfed by some of the remarkable awfulness that appared.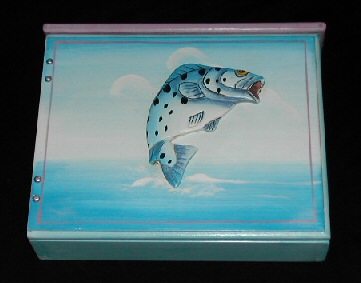 Perhaps most memorable was the glow-in-the-dark fridge magnet Jesus. It's hard to imagine the path of logic that led to this particular delight. "Hmmm, there's nothing I hate more than when I go into the kitchen at night time during a powercut, and I'm unable to locate the exact place I attached a piece of paper to my fridge door, and, er, Jesus is nice." No – there is simply no possible route to get there.
Anyhow, this year I believe I am more powerfully placed with the hideous quality of my chosen item. I explained to the lady in Cancer Research how I was immeasurably improving the tone of her shop by removing it. She looked at it, looked up at me, and said, "Oh dear."
But I cannot reveal its awful ways until after the weekend.